38th UN-Water Meeting summary.
September 8, 2023
Posted by:

Sinead Sprigg

Category:

Conferences, Environmental, Global, Water Issues, Water Treatment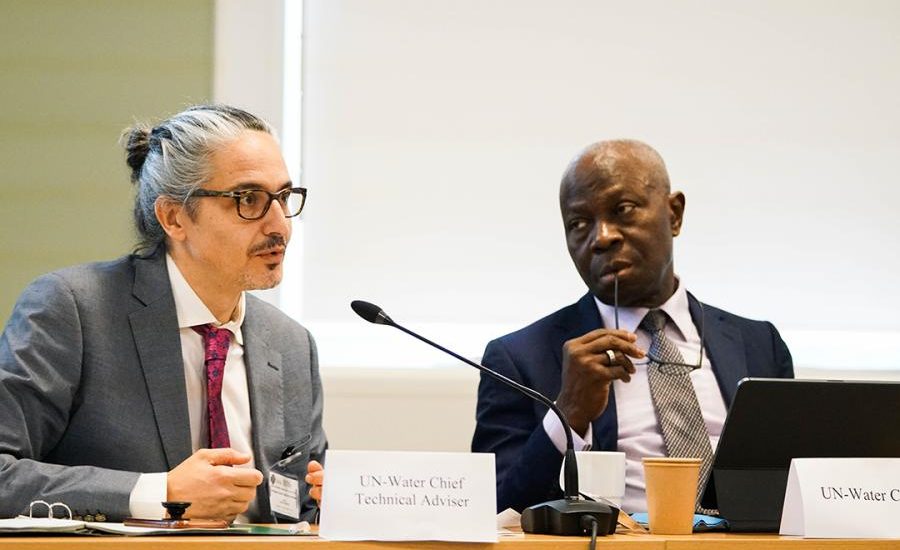 Frederico Properzi, Chief Technical Advisor of UN-Water, and Gilbert Houngbo, UN-Water Chair.
The 38th UN-Water Meeting, held on August 18-19, 2023 at the headquarters of the Swedish International Development Cooperation Agency (SIDA) in Stockholm, Sweden, focused on the follow-up to the UN 2023 Water Conference and the implementation of Sustainable Development Goal 6 (SDG 6) – clean water and sanitation.
The conference marked an opportunity to address global water and sanitation challenges, with nearly two billion people lacking access to safe drinking water and 3.6 billion without safe sanitation services.
During the open session, Members and Partners did a 'deep dive' into the recommendations and outcomes from the UN 2023 Water Conference. In a 'World Café' format of smaller group sessions delegates explored topics including mainstreaming water into intergovernmental processes and the potential for a UN-wide strategy on water and sanitation.
Key outcomes of the UN 2023 Water Conference included the proposal for a UN Special Envoy on Water and the launch of the World Action Agenda, comprising over 800 voluntary commitments from countries and stakeholders.
Participants also learned about progress on the SDG 6 Global Acceleration Framework, including the Capacity Development Initiative, the Taskforce on Country Level Engagement, Regional Level coordination, the Integrated Monitoring Initiative for SDG 6, the Roadmap on human rights to water and sanitation, and operationalising the Innovation Accelerator.
Proposals from these, and other discussions, were taken up during the subsequent closed meeting of UN-Water Members, with the goal of integrating them into the UN-Water work programme.
The 38th UN-Water Meeting aimed to ensure that the momentum generated by the UN 2023 Water Conference continues, with a focus on concrete actions to address global water and sanitation challenges and achieve SDG 6 by 2030. Read the highlights here.
Tags