€ 2.4m+ EU-funded project secures Europe's drinking water with satellite technology
October 23, 2019
Posted by:

administrator

Category:

Technology & Innovation, Europe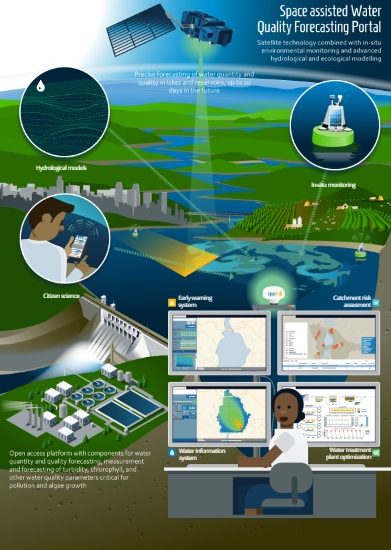 An EU-funded project co-ordinated by EMWIS in Greece is developing in-water and satellite-based digital monitoring systems that can detect threats to Europe's drinking water supplies, improve water management and guard against dangerous water quality.
From climate change-induced droughts and rising water demand to harmful algal blooms triggered by excessive fertiliser run-off, Europe's drinking water supply is under increasing strain.
Helping to make the sector resilient to present and future challenges, the € 2.47 million EU-funded SPACE-O project has developed smart, digital services for water management that will keep Europe's drinking water supplies clean and safe for human consumption while boosting ability to meet demand.
SPACE-O's system is designed to manage water contained in reservoirs – the biggest source of drinking water in Europe. It also supports the reservoir water's downstream management and the treatment of water.
'As water management operations are growing in importance and complexity, reliable and effective innovation is becoming critical for water managers,' says project coordinator Apostolos Tzimas, managing director at EMVIS in Greece. 'Our technology and monitoring systems will improve their capabilities and enable them to predict and effectively manage crises before they develop.'
Tracking algal blooms by satellite
Harmful algal blooms cause a body of water to turn a green or rusty brown. They affect water quality, water transportation, dam operations, hydropower generation and water-based recreation activities. Blue-green algal blooms can contain cyanotoxins, which are dangerous for human health and can even cause death. Incidents of algal blooms are rising due to climate change, which causes more extreme and disruptive weather, the growth in the use of synthetic fertilisers in agriculture, and the rise of both human and livestock populations.
Using image data obtained by sensors on the EU's Copernicus satellites Sentinel 2 and Landsat 8, as well as information collected by sensors on buoys placed in the water, SPACE-O project scientists created a system that automatically monitors key water-quality indicators. Information collected includes chlorophyll levels – a measure of biological activity in the water; turbidity levels – a measure of water cloudiness; and water temperature, all of which can contribute to a harmful algal bloom.
Project researchers also demonstrated how satellite images can improve the skill of forecasting models, introducing continuously adjusted, predictive models for decision-making. The project's algorithms can provide up to 10 days of water quality and quantity forecasts, allowing water managers to adjust their everyday water management operations to achieve the highest-quality water possible. For example, a water manager could decide to blend water from different sources or treat water to weaken a potential algal bloom. They could also warn downstream water users early enough to reduce the impacts of a poor water quality event.
SPACE-O's proactive management of water resources could help avoid costs
SPACE-O technology has been tested in the Mulargia reservoir and Simbirizzi water treatment plant in Sardinia, Italy, as well as the Aposelemis reservoir and water treatment plant in Crete, Greece.
In Mulargia, local water managers tested the system's early-warning forecasting to prevent algal blooms. Using the system, water could be transferred from the Flumendosa reservoir upstream and blended with the water in the Mulargia reservoir long before the bloom could spread across the reservoir.
According to the project, SPACE-O's proactive management of water resources could also help avoid costs. In a small city of around 100,000 people, water disruption for one day due to potentially harmful water quality could amount to more than EUR 300 000 to cover the costs of buying water from other sources. The technology developed by SPACE-O also has the potential to support other water-quality dependent sectors, such as agriculture, hydropower and aquaculture.
Click here for more information about SPACE-O
Tags