Africa is no longer a dumping ground for obsolete technologies – Water Ministers
September 1, 2017
Posted by:

administrator

Category:

Africa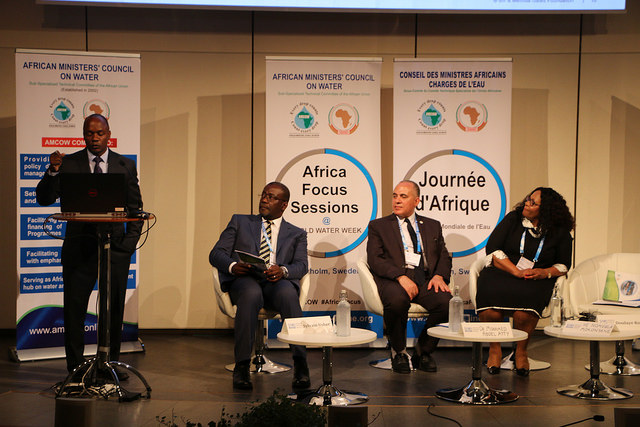 The era of exporting obsolete technologies to Africa in the guise of meeting the continent's infrastructure needs in the water and sanitation sector is over, say African water ministers.
Ministers responsible for water and sanitation from across Africa made this declaration at the closing Africa Focus sessions of the 2017 World Water Week which took place in Stockholm, Sweden last week.
Speaking on behalf of the president of the African Ministers' Council on Water (AMCOW), the Egyptian Water and Irrigation Minister, Dr. Mohamed Abdel Atty, reckoned that by the year 2030, global demand for water will grow by 50% and most of this demand will be in the cities.
"The need for newer approaches and technologies for wastewater collection, management and reuse therefore becomes imperative" Dr. Atty said.
The Egyptian minister who also doubles as AMCOW Vice President for North Africa region declared that it has become a matter of urgency for Africa to set in motion, "the machinery for the implementation of new game-changing technologies, innovative institutional frameworks and well-designed business models for more effective wastewater management and improved water quality."
Nomvula Mokonyane, South Africa's Water and Sanitation minister and panelist at the Africa Focus sessions was vehement in her denunciation of obsolete technologies packaged as aid to Africa, commenting:
"Africa's time to get organised and be proud of herself is now. We must avoid being a guinea pig for life and arise as lead agent for transformation, adaptation and for new technologies, not for solutions that have been rendered redundant in other places."
"Technical capacity building, knowledge and education therefore have become key priorities for us as Africans."
The South African Water Minister strongly urged her colleagues to lead Africa on the path to "dedicated process and programme of progressive implementation, action and performance towards improved water security and sustainable financing."
Reinforcing this position, Dhesigen Naidoo the CEO of Water Research Commission of the Republic of South Africa added that more than half of the innovative water related inventions in use across the globe today came from Africa and Africans.
"Africa is the home of innovations in water and sanitation. All we need to do is to scale up," Naidoo said.
Another panelist at the High Level Ministerial Panel of the Africa Focus session and Nigeria's water resources minister, Engr. Suleiman Adamu believes that "African solutions are in Africa and effective management of wastewater will not only improve the economies of Africa, but would also improve and promote good health of Africans."
It is in this light, according to the minister, that "Nigeria is mobilizing resources through the Partnership for Expanded Water, Sanitation and Hygiene (PEWASH) initiative to address the nation's Water and Sanitation Sub-sector in order to meet the Sustainable Development Goal-6 on water and safe sanitation in both rural and urban areas of the country."
With home-grown technologies, Dr. Canisius Kanangire, AMCOW's Executive Secretary envisions a prosperous future for the continent. From what we call waste, Africa can generate wealth, employment and food," Dr Kanangire added.
Tags