Amiad anticipates full year revenue growth for 2018 in line with market expectations
September 6, 2018
Posted by:

administrator

Category:

Global, Investment and Finance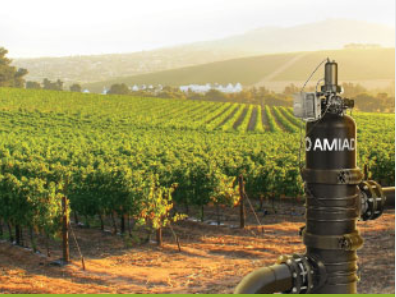 Amiad, a leading global producer of water treatment and filtration solutions, announces its interim results for the six months ended 30 June 2018.
Revenue increased during the period to $56.2m (H1 2017: $55.7m) while operating profit increased by 10.1% to $3.1m (H1 2017: $2.8m). Gross margin also rose to 40.9% (H1 2017: 39.6%).
Profit before tax was down at $2.2m compared to $3.2m in H1 2017: however, Amiad said last year's figure included exceptional gains from foreign currency hedging.
The company reported positive sales momentum, with  growth in revenue reflecting increased sales across most vertical markets in most geographies. This was offset by a reduction in revenue generated under the company's distribution agreement with Netafim, which accounts for a significant proportion of irrigation segment sales, and weakness in the non-irrigation segment in Israel and India
The key geography of the US achieved a return to growth, with sales increasing by 17.5%.
Irrigation segment sales, which accounted for 56.4% of total revenue, increased in most geographies.  Amiad has also launched new range of Irrigation segment products, which have already received orders and are expected to contribute to irrigation segment growth in the second half of 2018
The company also saw growth in sales in the municipal and oil & gas markets, which account for an increasing proportion of revenue.
Dori Ivzori, Chief Executive Officer of Amiad, said:
"I am pleased to report this set of results that represents solid progress for Amiad. We achieved an increase in sales with positive momentum being sustained into the second half, including a return to growth in our key geography of the US. We continued to enhance our operational efficiency, and benefitted, in particular, from the contribution from our new in-house metal fabrication facility. Our operations were further enhanced with the completion of the integration of our TEQUATIC™ PLUS Filter acquisition as well as, post period, acquiring full ownership of our Amiad India subsidiary.
"We entered the second half of the year with positive sales momentum and anticipate reporting full year revenue growth for 2018 in line with market expectations. Looking further ahead, we expect to benefit from increasing operational efficiencies, growing sales from the new products launched this year and continued demand for our vast portfolio of solutions. As a result, we are confident of achieving a higher rate of revenue growth in 2019."
Tags