Call for sustainability drive by fashion, apparel and textile sector in post-Covid recovery
August 26, 2020
Posted by:

Elaine Coles

Category:

Companies, Corporate, Environmental, Global, Water Issues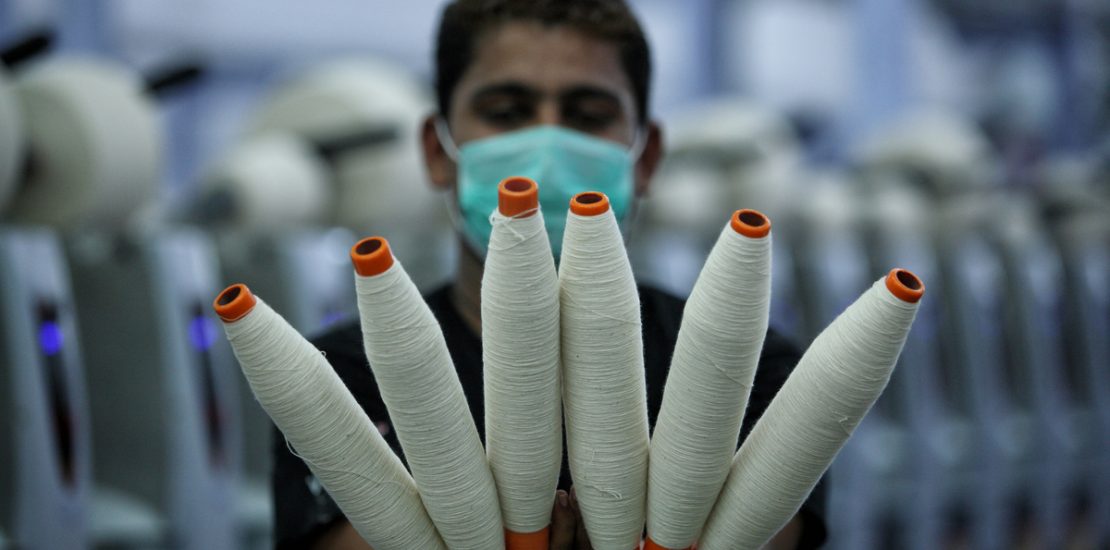 Employee at a company that is part of the Better Cotton initiative © Asim Hafeez / WWF-UK
Fifteen major companies, brands and organisations in the fashion, apparel and textile sector have published an Open Letter stressing the need for the sector to build back better and more sustainably from the COVID-19 pandemic.
Launched during 2020's virtual World Water Week, the Open Letter's signatories include multinationals such as H&M, Tchibo, Burberry, PVH, Tommy Hilfiger, Calvin Klein and Primark as well as the Sustainable Apparel Coalition, ZDHC, Alliance for Water Stewardship, CDP and WWF.
As one of the world's most polluting industries, the fashion, apparel and textile sector has a significant impact on planetary systems. According to 2015 figures, the sector was responsible for the consumption of 79 billion cubic metres of water, the emission of 1,715 million tons of CO2 and the production of 92 million tons of waste.
Under a business-as-usual scenario, it is estimated these numbers will increase by at least 50 per cent by 2030, putting even more pressure on planetary systems – from biodiversity to water to climate – that are already failing.
Stuart Orr, WWF Global Freshwater Lead commented:
"The fashion, apparel and textile sector has been hard hit by this pandemic, leaving the livelihoods of millions as well as the future of many companies at risk. As the industry starts to recover, it's critical that it charts a new course that takes the whole sector in a more sustainable direction."
"Hopefully, other companies will sign up to this Open Letter and help ensure the sector builds back better – which is critical not only for the industry but also for global efforts to tackle the climate and nature crises."
The International Labour Organization (ILO) has launched a call to action "COVID-19: Action in the Global Garment Industry", which aims to catalyze action across the industry to support manufacturers and protect garment workers' income, health and employment. The Open Letter is a complement to the ILO's call, with a focus on the environmental aspects that need to be taken into consideration by the sector.
Specifically, the signatories to the Open Letter call on other companies, brands and organisations in the fashion, apparel and textile sector to:
Support and encourage governments to deploy Green Economic Recovery Plans;
Maintain and strengthen corporate sustainability commitments;
Recognize the importance of WASH and pledge action;
Recognize the importance of nature, particularly freshwater ecosystems, in maintaining human wellbeing;Increase brand-led sustainability efforts and ensure a role for circularity;
Enhance and strengthen supplier relationships; and
Enhance traceability and transparency
Severely affected by the COVID-19 pandemic, the sector has seen unprecedented disruption to its operations and supply chains. Across the globe, thousands of factories and stores have closed. Many are now reopening, but millions of workers remain in a precarious position.
With governments in the process of considering stimulus packages to help re-invigorate their economies and with the textile sector resuming operations, the signatories to the Open Letter understand that now is the time to "ensure that this unprecedented disruption is the catalyst for a new sustainable era for the sector."
Other companies, brands and organisations can still sign up to the Open Letter to add their voices to the call for a more sustainable future for the industry -contact Angela.Ortigara@wwf.de for further information
Tags