Climate change - prioritise climate-resilient water resources to prevent billions being forced into water scarcity
September 23, 2019
Posted by:

administrator

Category:

Global, Investment and Finance, Water Issues, Africa, Asia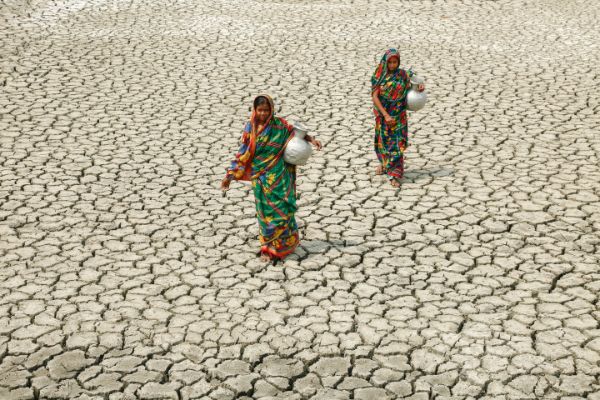 Village women walk on cracked ground to collect water in Bangladesh
WaterAid is calling on world leaders meeting at the United Nations General Assembly to prioritise the funding of climate-resilient water resources as a matter of urgency to prevent billions being forced into water scarcity.
According to the charity, water security, specifically access to water and sanitation services, is the first line of defence against the impacts of climate change. No other consequence of climate change, except for extreme heat, will be as widespread and immediate as the effect it has on water.
WaterAid has reached over 27 million people around the world with clean water since 1981. However, the NGO is warning that climate change is reversing this progress highlighting a recent report from the Global Commission on Adaptation which says that by 2050, the number of people lacking water at least once a month will have swelled to five billion.
Tim Wainwright, CEO, WaterAid said:
"We must stop thinking of climate change as just something we have to prevent, and instead focus on finding ways to tackle the effects that are being felt right now. Water and sanitation services are uniquely vulnerable to climate change – whether you live in Chennai, California or rural Malawi – and there is no better investment than getting these basic services to those who are currently forced to live without them.
"Tackling water change will reduce the likelihood that more and more communities will have to worry about water. I urge leaders to recognise the urgency of the climate emergency and prioritise investments in the services that are the most vulnerable, but can make the biggest difference to millions of people."
According to WaterAid, the more global heating is locked in, the more the impacts will be felt through water systems, increasing the pressure on areas where water supplies are already scarce.
"Investing in water and sanitation services for at-risk communities is one of the best investments you can make to help make people resilient to the effects of climate change. It's also a relatively cheap investment," the NGO said.
A new report by the Global Commission on Adaptation published earlier this month found that just a $200-$300 billion investment in water resources before 2030 would reap $1.4trillion in benefits globally, whilst protecting the lives of billions of people.
However, despite this, investment into climate adaptation accounts for just 6% of global climate finance. An even smaller proportion of that is going to Least Developed Countries, and an even smaller proportion of that is being spent on household water and sanitation, and on water security.
Justino da Silva, Country Director, WaterAid Timor Leste, said:
"Climate change is causing immediate and long-term impacts on life in Timor Leste. Around 80% of the population rely on agriculture to make a living, but erratic rainfall, long dry seasons, sea level rises and rivers drying up is making it harder and harder for people to feed their families. In villages where WaterAid has worked to bring water and sanitation services to communities, equipment has been damaged by extreme weather events including landslides and floods. If you do not have basic services, you cannot be resilient to anything."
Tags