Florida – abandoned radioactive wastewater reservoir in danger of collapse
April 6, 2021
Posted by:

Elaine Coles

Category:

Environmental, Water Issues, North America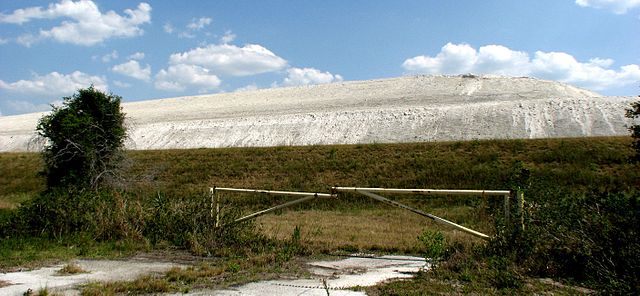 Photo: Harvey Henkelmann
Agriculture Commissioner Nikki Fried, an independently-elected member of the Florida Cabinet, has  called on Governor Honorable Ron DeSantis to convene an emergency meeting of the Florida Cabinet to discuss the Easter weekend evacuation of Manatee County residents and imminent environmental disaster at the abandoned Piney Point phosphate mine.
Sudden pressure and leakage of a phosphogypsum stack and radioactive wastewater reservoir may cause the uncontrolled release of nearly 500 million gallons of contaminated water into Tampa Bay and surrounding lands and waters.
In the letter, Fried details how previously-known poor maintenance by current and former phosphate mine owners have created a dangerous situation for local residents, communities, and even state-managed lands and waters.
Fried told the Governor:
"For more than fifty years, this Central Florida mining operation has caused numerous human health and environmental disasters and incidents, including evacuations from sulfuric acid leaks, deaths of multiple employees, the release of more than 1 billion gallons of contaminated wastewater, and ongoing, regular gypsum stack and reservoir leaks from poor construction and maintenance that released heavy metals and pollutants into the region's water and soil."
The Agriculture Commissioner said there had been numerous, well-documented failures – which continue today – of the property's reservoir liner, including leaks, poor welds, holes, cracks, and weaknesses that existed prior to purchase by the current owner, HRK Holdings, and exacerbated since.
According to reports, the phosphogypsum stacks and wastewater retention are at imminent risk of breaking apart under pressure and discharging, uncontrolled, hundreds of millions of gallons of radioactive wastewater into Tampa Bay, flooding local communities and state-managed lands and waters.
Given the potential impact not only to Floridians, but also to state-owned lands, Fried is calling on the Governor to convene an emergency session to discuss a plan for remediation actions with the Florida Department of Environmental Protection.
Governor DeSantis – Our first priority is public health and safety… the State is committed to holding HRK and all involved parties accountable"
Governor Ron DeSantis traveled to Manatee County at the weekend to meet with state and local officials as Florida continues to mitigate the potential risk of uncontrolled discharges from Piney Point.
The Florida Department of Environmental Protection (DEP) Secretary Noah Valenstein and Florida Division of Emergency Management Director (FDEM) Jared Moskowitz are onsite at the Manatee County Emergency Operations Center.
"Our first priority is public health and safety. Teams on the ground are laser-focused on addressing this issue, and I have directed Secretary Valenstein to work with Manatee County and utilize all available resources to form a permanent solution to this longstanding issue," said Governor DeSantis. "I have also deployed the National Guard and they are in the process of dropping off additional pumps via aircraft on top of the berms, to help decrease the water levels in the Piney Point reservoir at an even faster pace. The State is committed to holding HRK and all involved parties accountable."
"Our teams are working around the clock to mitigate risks and ensure emergency preparedness in the area that could experience flooding, should an uncontrolled breach occur. It is clear that this facility must be closed. I want to assure Floridians that we are dedicated to holding HRK accountable for this issue through enforcement action," said DEP Secretary Noah Valenstein.
"At the division, we are sending every resource at our disposal to the site by truck, crane and helicopter. We have already deployed 20 pumps, 10 vacuum trucks and more than 100,000 bottles of water, with more on the way. I urge residents in the area to follow all warnings and evacuation orders from local officials as we do everything we can to keep you safe," said FDEM Director Jared Moskowitz.
Tags