King Abdullah Economic City signs SR220m contract with Metito Saudi for solar powered desal plant
February 5, 2018
Posted by:

administrator

Category:

Technology & Innovation, Water Treatment, Asia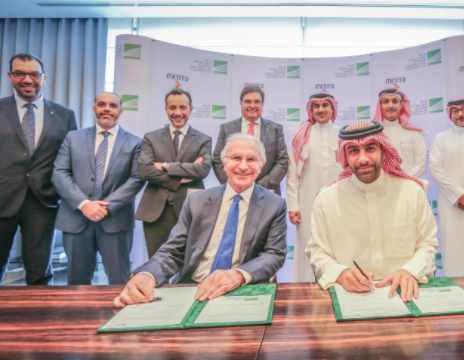 King Abdullah Economic City (KAEC) has signed a contract with Metito Saudi Ltd for the design and construction of a seawater desalination plant powered by solar energy and valued at SAR220,404,144 ($58 million).
The seawater treatment and desalination plant will start with a capacity to produce 30,000 cubic meters of drinking water per day, and expandable to 60,000 cubic meters per day. The development period of the project is 24 months, with a plan to start production in the first quarter of the year 2020.
The new plant will be the second desalination plant in KAEC with an objective to increase the production capacity of drinking water to meet the needs of new projects and the growing population in the city, especially with the pilot operation of Al Haramain Express train.
Metito was awarded the project after competing with 10 international and regional companies for the tender. The intelligent water management solutions firm is the provider of choice in the emerging markets with operations covering three business areas: design and build, specialty chemicals, and utilities.
With nearly 60 years of experience, the group provides customized, comprehensive and advanced solutions across the full spectrum of the water industry, including:
clean to dirty water;

desalination and re-use;

industrial solutions (up to ultra- pure water);

investing in water and wastewater assets;

and structuring both greenfield and brownfield schemes under project finance structures.
At the forefront of the water and wastewater industry, Metito's project portfolio includes over 3000 projects in more than 46 countries worldwide.
Production on the desalination plant in King Abdullah Economic City is expected to start in the first quarter of the year 2020 and will be powered by electricity generated from the solar power plant.
Ahmed bin Ibrahim Linjawy, KAEC Deputy Chief Executive Officer said:
"This is a vital to KAEC's water security and is consistent with the Kingdom's Vision 2030 for sustainable conservation of natural resources, water and clean energy use. The plant will also establish greater confidence between investors and the city, which continues to implement major projects to develop its infrastructure in all its different sectors, and will attract more investors to invest and gain a footing in KAEC knowing their water needs for industrial and commercial use is sustainably secured."
Mutaz Ghandour, Metito Chairman and CEO commented:
"King Abdullah Economic City's investments in infrastructural projects that rely on sustainable resources such as desalinated water and solar energy marks another unique proposition for this iconic establishment and a clear reflection of a progressive and exemplar vision.
"Developing secure and sustainable water sources is critical to developing successful economic systems and ecosystems and to the establishing a broad range of enterprises such as; hotels, food industries, pharmaceuticals, and construction, which will now have bigger appetite to invest in the city. "
The Kingdom of Saudi Arabia has great potential and we expect that development will take a faster pace with the continuous investment in infrastructure which requires significant capital and synergistic partnerships with all relevant stakeholders."
King Abdullah Economic City (KAEC) is the largest privately-funded new city in the world. Situated on the west coast of the Kingdom of Saudi Arabia, KAEC covers an area of 181 square kilometers of land, approximately the size of Washington DC. The city is under development by Emaar, The Economic City, a publicly listed Saudi joint-stock company established in 2006.
Tags