Legislation to tackle pollution from septic tanks in Florida would see increase in volume at treatment plants
September 18, 2018
Posted by:

administrator

Category:

Environmental, North America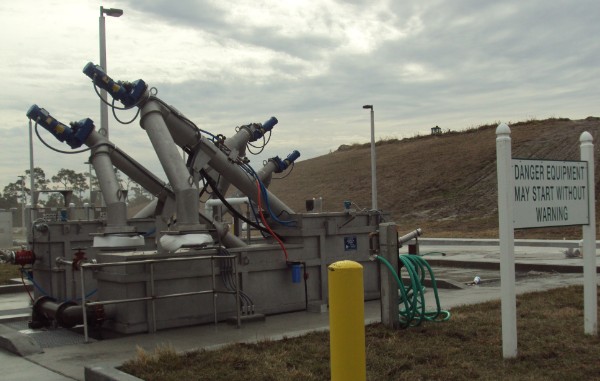 With an estimated 10 percent of Florida's two million to three million septic tank systems not working properly, there is understandable concern about pollution to pristine bodies of water such as the Indian River Lagoon on the east coast near Vero Beach.
With some tanks currently emptied only every fifteen years, contributing to nutrient and fecal coliform bacteria in groundwater, moves are afoot to introduce laws that would require inspection and emptying of tanks every three to five years.
In Brevard County, for example, which accounts for 71 percent of the lagoon, there are 82,000 permitted septic systems, of which according to a legislative staff analysis, 59,500 pollute groundwater that flows into the estuary.  That pollution contributed to the algae blooms that killed fish in the Banana River and northern lagoon last year.
New legislation would undoubtedly see an increase in volume at treatment plants such as Indian River County's Residuals Dewatering (Biosolids) Facility (RDF).
Recent analysis showed that approximately 66% of the hauled waste brought to the site by septic haulers was not actually generated in Indian River County itself.  The wastes came from commercial, industrial and municipal sources in addition to residential septic tank cleanings located in Brevard, Palm Beach, Martin, St. Lucie, and Okeechobee counties.
Planned and built to serve the needs of the Indian River County community whose taxes pay for it, the RDF no longer accepts out of county haulers who previously travelled to the facility from up to 100 miles away.
Yet despite still receiving such large volumes (100,000 gallons) of septage from 30-35 vac trucks on a daily basis (even with no out-of-county vehicles), Indian River's RDF has been a tower of strength since it opened in 2010.  Determined to provide a highly robust plant, the facility's team have made an exceptionally strong case in justifying the high specification of the equipment it chose.  Lowest bid didn't win.
Rich Meckes, Indian River County's RDF Manager who has worked at the facility since it opened said they had looked at several manufacturers for grit removal and visited a number of sites.
However, he added that for a system that was truly built for purpose, Lakeside's complete plant (combining screening and grit removal) "sets itself apart – there are no failure points". In nearly a decade, there had been no bearing failures, and the operators only had to carry out very basic daily maintenance.
Fully automated, Lakeside's Raptor Septage Complete Plant (SCP) is a self-contained unit with a small footprint that compacts and dewaters captured screenings to a solids content of 40 percent.
"There's nothing flimsy on the plant", added Meckes.  "It is designed with thick stainless steel.  Everything is rugged, and it is also far easier to access than others we looked at.  You can open up the top cover and all the maintenance points are very conveniently located.  It's clearly designed by those who understand the application and have thought through the role of the operator".
The pre-engineered design reduces engineering costs and the all stainless steel construction resists corrosion.  Lakeside's Septage Complete Plant is also available with an Acceptance Control System (RACS) – a security access station that allows authorized haulers to unload their waste at a facility.
Adding the data management and accounting system with the RACS station provides administration capabilities to track and invoice customers.
Meckes concluded:
"We certainly didn't anticipate getting 10 years of service from this combined screen and grit removal system.  If you can get a decade out of any equipment on a tough application at a wastewater treatment plant, without any major problems, you know you've bought right.  Considering the abuse that the Lakeside Septage Complete Plant has taken, it has been a great buy.  It shows no sign of stopping".
Tags