Minister launches Lee Road water treatment plant upgrade project
November 21, 2019
Posted by:

Lyn Wilson

Category:

Environmental, Investment and Finance, Tenders and Contracts, Water Issues, Water Treatment, Europe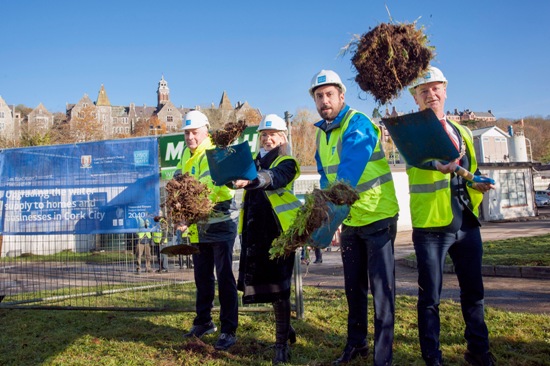 REPRO FREE Cork City to reap big benefits from upgrade of Lee Road Water Treatment Plant Irish Water, in partnership with Cork City Council, has today marked the start of a landmark project to upgrade Cork's Lee Road Water Treatment plant to ensure it meets the needs of a growing population and supports the ongoing economic development of Cork City. The upgraded plant will supply water to over 70% of the population of Cork City, ensuring a safe and secure water supply for the rapidly growing city. Pictured were Eamon Gallen, Irish Water's General Manager; Valerie O'Sullivan, Cork City council Director of Operations; Minister for Housing Planning and Local Government Eoghan Murphy TD and Deputy Lord Mayor of Cork, Fergal Dennehy. Pic Daragh Mc Sweeney/Provision
In Cork City a Sod Turning Ceremony took place with Irish Water, in partnership with Cork City Council to mark the commencement of a landmark project to upgrade Cork's Lee Road Water Treatment plant. The event was performed by Clir Fergal Dennehy, Deputy Lord Mayor of Cork, Eoghan Murphy TD, Minister for Housing Planning and Local Government and also representatives from Irish Water and Cork City Council.
Irish Water has signed a two-year contract with J. Murphy & Sons Ltd., to carry out the project which is estimated to take roughly two years to complete.
Improving and upgrading the water treatment plant is a prerequisite in order to meet the needs of an ever- expanding population and the main aim of the new developments is to supply a safe water supply to over 70% of the city's residents which will include  a modern water treatment infrastructure.
Mr. Dennehy, Deputy Lord Mayor of Cork said:
"Today's sod turning is an important step in the modernization of our city's water treatment infrastructure."
Mr. Murphy, Minister for Housing Planning and Local Government said:
"It's great to be here today to mark the start of this €40m project which is so important for the future of Cork city. As we have seen with recent events clean water is vital for homes and families across the country and the investment by the Government in this infrastructure will ensure a safe, secure and sustainable water supply in Cork city for many years to come."
He continued to say:
"This latest investment is another important milestone in securing Cork's water supply into the future."
The General Manager of Irish Water, Eamon Gallen commented that Irish Water was committed to safeguarding their water for their future. He also commented that they were working in every county to build new treatment plants, fix pipes and leakages and to upgrade any existing infrastructure.
Mr. Gallen also said:
""This major upgrade of the Lee Road Water Treatment Plant is a key project for Irish Water. Along with other investments in the water supply network across the city and county, it will provide state-of-the-art water treatment facilities."
Tags