Neom chooses Solar Water plc for first solar desalination project
February 6, 2020
Posted by:

Lyn Wilson

Category:

Environmental, Technology & Innovation, Water Issues, Europe, Middle East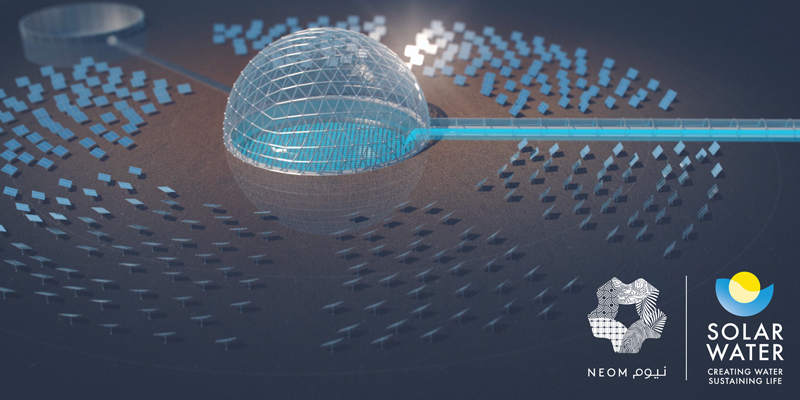 NEOM, Saudi Arabia's first city to be completely powered by renewable energy announced that it has chosen UK based Solar Water Plc to construct its first ever 'solar dome' project. Located in Tabuk Province in northwestern Saudi Arabia, NEOM has been designed to integrate smart city technologies and to operate as a tourist destination, too.
One of the most crucial problems to solve globally is to be able to gain access to clean water and this is the aim of NEOM's revolutionary process of water desalination in combining the technological expertise offered by Solar Water Plc.
CEO of NEOM, Nadhmi Al-Nasr said:
"Easy access to abundant seawater and fully renewable energy resources means NEOM is perfectly placed to produce low cost, sustainable fresh water through solar desalination. This type of technology is a powerful reminder of our commitment to supporting innovation, championing environmental conservation and delivering exceptional livability. Working together with the Saudi Ministry of Environment, Water and Agriculture we can expand the implementation of this technology beyond NEOM."
Solar Water's objective is to produce unlimited fresh water through state-of-the-art, carbon neutral and wholly sustainable technology employing the concentrating power of sunlight.
CEO of Solar Water Plc David Reavley commented:
"Our game changing desalination technology is 100% carbon neutral and entirely sustainable. In NEOM we have found a partner who has a strong vision of what a New Future looks like in harmony with nature."
Worldwide there are approximately one billion people without daily access to fresh, potable water. The results of the desalination project involving Solar Water Plc and NEOM will hopefully pioneer the way to aid other water scarce countries battling to create environmentally safe and sustainable sources of clean water.
Gavin van Tonder, Head of Water at NEOM, added:
"We're really excited by the prospect of bringing Solar Water Plc's cutting-edge water technology and fresh industry thinking to NEOM. By using their solar dome desalination techniques, we can build a highly effective, efficient water utility that is both future- oriented and environmentally responsible."
Solar Water Plc will start work on the first dome in February 2020 and the project is expected to be completed by the end of this year.
Tags