New report calls for transboundary water cooperation worldwide to be strengthened
December 6, 2018
Posted by:

administrator

Category:

Environmental, Global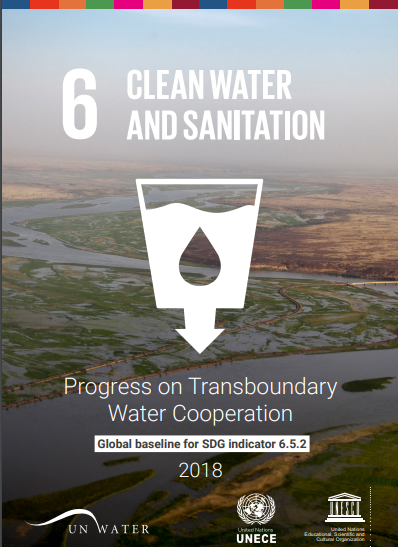 A new  UN report is calling for transboundary water cooperation worldwide to be strengthened and warns that the current situation "falls far short" of having all transboundary basins covered by operational arrangements by 2030.
The report – Progress on Transboundary Water Cooperation 2018 – produced by the United Nations Economic Commission for Europe (UNECE)  and United Nations Educational, Scientific and Cultural Organization(UNESCO) is the first ever global report on the status of transboundary water cooperation based on official data from countries.
Across the world, 153 countries share rivers, lakes and aquifers. Transboundary basins cover more than half of the Earth's land surface, account for an estimated 60 per cent of global freshwater flow and are home to more than 40 per cent of the world's population.
Transboundary water cooperation is therefore not only key for water management, but more generally for sustainable development, regional integration and peace.
Only 17 out of 153 countries have full transboundary basins arrangements in place
The report is based on countries' reports on SDG indicator 6.5.2, measuring transboundary water cooperation, for which UNECE and UNESCO are co-custodians. Out of the 153 countries sharing transboundary rivers, lakes and aquifers, 107 responded to the invitation to report.
The report shows that for the 62 countries where the SDG indicator 6.5.2 can be calculated only 59% of their transboundary basin area is covered by operational arrangements and only 17 of those countries have all their transboundary basins covered.
"This falls far short of having all transboundary basins covered by operational arrangements by 2030, in line with the ambition set in the 2030 Agenda for Sustainable Development." The report says.
SDG indicator 6.5.2 is the only indicator which is exclusively dedicated to transboundary cooperation, which is also fundamental for the achievement of other SDGs.
The results also show that, while cooperation is evident in all regions, there is significant regional variation in terms of progress. Europe and North America, and Sub-Saharan Africa, show the highest levels of coverage for their operational arrangements, particularly in relation to transboundary river and lakes.
Results also show the different level of advancement of cooperation on surface waters (rivers and lakes) and cooperation on transboundary aquifers (groundwater reserves).
Cooperation on transboundary aquifers poses a particular challenge and is lagging behind. Operational arrangements for transboundary aquifers are still rare around the world and cooperation on aquifers is not integrated enough in the cooperation on surface waters.
The fact that it was possible to calculate full indicator for 62 of the 107 countries that responded to the request to report is reflective of a broader challenge – namely that in many instances, it has proven difficult for countries to provide sufficient data, particularly on the transboundary aquifers that they share.
Acceleration of rate of progress needed
At the current rate of progress, with on average three cooperation agreements put in place per year, we are not on track to achieve target 6.5 by 2030. The report is calling for an acceleration of progress.
Olga Algayerova, UNECE Executive Secretary commented:
"Besides serving as a strong legal basis for transboundary agreements, the Water Convention, which is serviced by UNECE, has a key role to play in promoting transboundary water cooperation. It provides a multilateral framework that supports countries' efforts by building capacity and promoting the exchange of experiences; an intergovernmental framework to develop common policy responses to emerging challenges.
"As more countries join the Convention and benefit from its activities, this offers great opportunities to accelerate efforts towards transboundary water cooperation in support of the 2030 Agenda for Sustainable Development."
The Global baseline for SDG indicator 6.5.2 was prepared on behalf of UN-Water as part of a series of reports that track progress towards the various targets set out in SDG 6 using the SDG global indicators, prepared by the respective custodians.
The report will be reviewed at the forthcoming eighth session of the Meeting of the Parties to the Water Convention (Astana, 10-12 October 2018).
Click here to download the report Progress on Transboundary Water Cooperation 2018 – Global baseline for SDG indicator 6.5.2
Tags