New report warns water is a strategic challenge in complex risks GCC states face
September 25, 2018
Posted by:

administrator

Category:

Environmental, Asia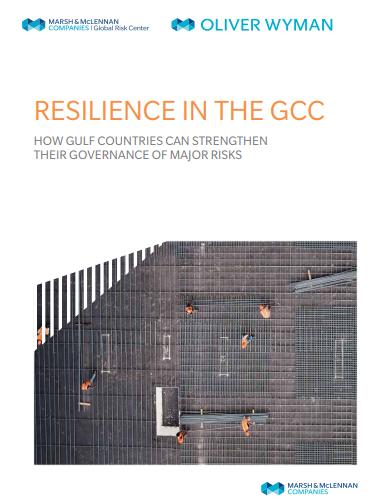 A new report is warning that water constraints present a strategic challenge as part of an array of complex risks GCC countries are facing due to their pivotal location, the harshness of the climate, and complex demographics.
The report  – Resilience in the GCC – how Gulf countries can strengthen their governance of major risks has been published by strategy consultancy firm, Oliver Wyman and the Global Risk Center.
According to the report, the Gulf Cooperation Council (GCC) countries experience "an extraordinary array of threats and hazards, generic as well as specific to the region. " The paper surveys the key risks facing GCC nations and examines the efforts being made by individual states to grapple with the high-level risk agenda and sets out the following three key priorities that would help the GCC states to improve their decision making and resource allocation for long-term resilience:
Formation of a dedicated risk management unit at the heart of Government
Sustained encouragement of a whole-of-society eff­ort to enhance resilience
Commitment to critical infrastructure investment, protection and maintenance
National leaders increasingly recognize the role that strong risk governance can play in building resilience, the report says – but this needs to be turned into clear programs of action, involving government departments, the business sector, and citizens.
Key risks flagged up in the report include:
natural hazards (e.g. tropical cyclones)
human-induced accidental risks (e.g. groundwater contamination)
malicious human action (e.g. terrorism)
Resource risks are felt particularly keenly, due to rapidly-rising demand for energy, food, and water in the GCC states.
The report warns that without major water-usage efficiency gains, depletion of assets within the Gulf itself are a major concern, while water depletion in countries currently exporting food to the Gulf raises questions about their sustainability as a supply source over the long term.
Following years of what the report describes as "misguided agricultural practices", groundwater reserves have been significantly reduced and the threat of groundwater contamination is ever present due to environmental misuse, the report says.
In addition, once presented as a future-proof solution, desalination in the region faces challenges of its own, with rising saline levels in the Gulf threatening to reduce desalination efficiency.
The report says that Gulf countries which have a high level of state ownership of, or authority over, critical infrastructure should be able to roll out best practices quickly and consistently, mandating resilience requirements that elsewhere "might experience pushback from private operators."
It also points out that GCC states are also able to make large-scale strategic investments in new infrastructure, with "longer payback expectations than might be desirable for private investors."
Click here to download the report
Tags