New UN Water Report says nature-based solutions are key to tackling water challenges
September 21, 2018
Posted by:

administrator

Category:

Environmental, Global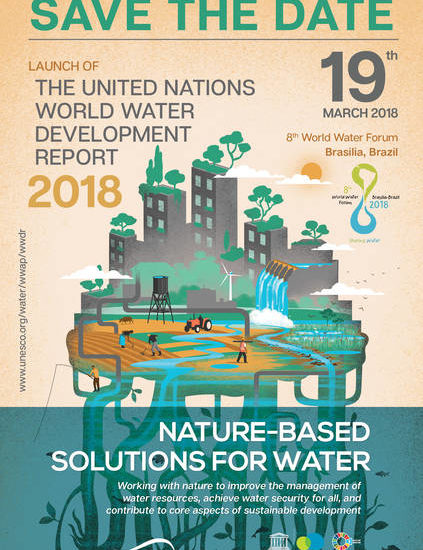 This year's UN World Water Development Report will focus on nature-based solutions which use, or mimic, natural processes to address contemporary water management challenges and improve water security.
The 2018 edition of the Report (WWDR 2018) seeks to inform policy and decision-makers, inside and outside the water community, about the potential of nature-based solutions (NBS) to address contemporary water management challenges across all sectors, and particularly regarding water for agriculture, sustainable cities, disaster risk reduction and improving water quality.
NBS use or mimic natural processes to enhance water availability (e.g., soil moisture retention, groundwater recharge), improve water quality (e.g., natural and constructed wetlands, riparian buffer strips), and reduce risks associated with water-related disasters and climate change (e.g., floodplain restoration, green roofs).
The WWDR2018, entitled Nature-Based Solutions for Water, demonstrates how nature-based solutions (NBS) offer a vital means of moving beyond business-as-usual to address many of the world's water challenges while simultaneously delivering additional benefits vital to all aspects of sustainable development.
Currently, water management remains heavily dominated by traditional, human-built (i.e. 'grey') infrastructure and the enormous potential for NBS remains under-utilized. NBS include green infrastructure that can substitute, augment or work in parallel with grey infrastructure in a cost-effective manner. The goal is to find the most appropriate blend of green and grey investments to maximize benefits and system efficiency while minimizing costs and trade-offs.
NBS for water are central to achieving the 2030 Agenda for Sustainable Development because they also generate significant social, economic and environmental co-benefits. Although NBS are not a panacea, they will play an essential role towards the circular economy.
The World Water Development Report will be presented at the upcoming 8th World Water Forum, in Brasilia (Brazil) on the 19th of March.
Tags