New WEF/PwC study explores AI's potential to tackle global environment challenges
February 6, 2018
Posted by:

administrator

Category:

Environmental, Global, Technology & Innovation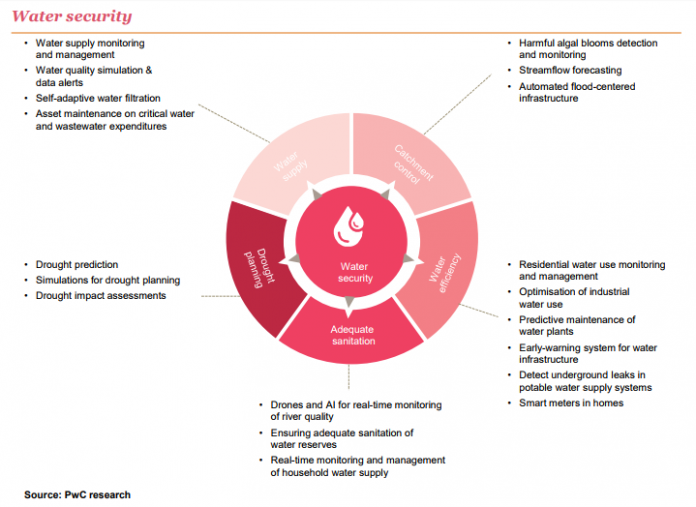 A new study from PwC and the World Economic Forum says there is wide scope for innovation and investment to apply Artificial Intelligence – AI – to global environmental challenges including climate change, biodiversity, weather and disaster resilience.
Harnessing Artificial Intelligence for the Earth, published by PwC and the World Economic Forum examines how AI can be put to work for the planet's greatest environmental challenges.
The study is the latest in a series of reports from the World Economic Forum's Fourth Industrial Revolution for the Earth initiative, designed to accelerate progress of the development and use of emerging technology to benefit environmental challenges.
The report focuses on the use of AI in the context of six critical global challenges:
climate change;

biodiversity and conservation;

healthy oceans;

water security;

clean air;

weather and disaster resilience.
In the six priority action areas, over 80 emerging AI applications for Earth challenges are examined and identified in the study include:
Climate change: smart agriculture, nutrition and food systems; optimised energy grids; autonomous and connected electric vehicles; climate and weather modelling
Biodiversity and conservation: pollution control; plant species identification; precision monitoring of ecosystems; illegal trade monitoring and response
Healthy oceans: robotic fish to fight pollution, real time monitoring of ocean temperature and PH; coral reef mapping; illegal fishing monitoring and response
Water security: simulations for drought planning; drones and AI for real time monitoring of river quality: streamflow forecasting; decentralised water grids
Clean air: pollution forecasting for transport management and early warning; air pollutant source detection; air pollutant filtration
Weather and disaster resilience: improved early warning systems for weather and disaster resilience; automated mitigation of flood risk; real time risk analytics for first responders.
Celine Herweijer, Innovation and Sustainability Leader, PwC UK commented:
"AI is the electricity of the Fourth Industrial Revolution. Today, as tech pioneers and industry execs alike are starting to see the big impact that applying AI can have, our study shows how it can also be directed to tackle some of the world's biggest problems."
However, the report is also warning that although AI presents transformative opportunities to address the Earth's environmental challenges, left unguided it also has the capability to accelerate the environment's degradation.
Risks including performance, security, control, ethics, and socio-economic impact are explored in the report which recommends that to be sure that AI is developed and governed wisely, government and industry leaders must ensure sustainability considerations are integrated into the pressing fields of AI safety, explainability, transparency and governance.
Celine Herweijer continued:
"It's incumbent on authorities, AI researchers, technology pioneers and AI adopters to encourage deployments that earn trust and maximise positive returns for society and our planet."
"Developing approaches to guide "human-friendly" AI is arguably one of the biggest unsolved AI problems today. If we get it right, it could create a sustainability revolution. In practice that means that AI systems' checks and balances must incorporate the health of the natural environment as a fundamental dimension. "
Click here to download Harnessing Artificial Intelligence for the Earth
Tags