Royal HaskoningDHV reports increased profit margins in 2020 results
March 17, 2021
Posted by:

Elaine Coles

Category:

Companies, Investment and Finance, Europe
Royal HaskoningDHV has been able to grow its operational result to €28 million and EBITA margin to 4.8% – however, operating income declined by 7% due to Covid-19.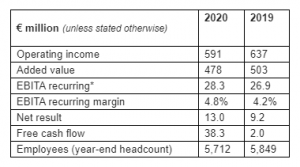 Net turnover fell from € 649.7 million in 2019 to € 593.9 million in 2020, while operating income fell from € 637.2 million to € 590.9 million.
Chief Finance Officer Jasper de Wit commented:
"Given Covid-19, we are pleased with our financial performance.
" The net result increased to €13.0 million and EBITA recurring margin increased to 4.8%. All Business Lines contributed to the positive results except for the newly launched Business Line Digital which has a clear investment agenda for the company's digital future.
"Across our markets, effects of Covid-19 were mixed and impact on our operating income was contained. Despite a lower operating income, we managed to grow our profitability and maintain our healthy financial position, reflected in the strong solvency and cash position."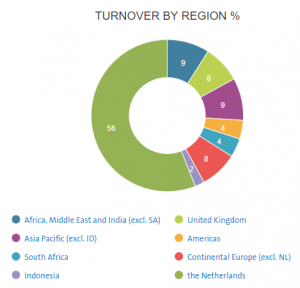 Strategy update
CEO Erik Oostwegel  said 2020 had been an extraordinary year which had brought challenge and disruption, commenting:
"In 2020 we continued to drive forward transformations and investments to move up the value chain. We launched our Business Line Digital, focused on supporting our clients with digital consultancy and software solutions. We have grown our business with UK-based transport consultancy ITP, strengthening our capabilities to shape the next generation of sustainable transport networks. The acquisition of Novius in the Netherlands brings complementary capabilities to guide organisations in their digital transformation."
Royal HaskoningDHV's digital transformation is built on two pillars. Firstly, to digitalise project delivery by automating and integrating daily work with data-driven and BIM enabled processes, improving service efficiency, quality and performance.
For example, Royal HaskoningDHV's cloud-based Global Flood Risk Tool analyses and visualises flood risks and provides clients like the World Bank and Port of Rotterdam with a set of customised solutions including an estimation of costs to reduce these risks.
The second pillar involves supporting clients in their digital transformation. For example, following a Memorandum of Understanding with Singapore's National Water Agency PUB, Royal HaskoningDHV will explore how its Aquasuite software can support the utility's digital transformation efforts.
According to CEO Erik Oostwegel, Covid-19 will continue to affect the business in the foreseeable future and will have a lasting impact on how and where staff work. Digital ways of working and virtual meetings are here to stay – internally and with clients who expect more meetings and activities to take place at a distance, he added.
Royal HaskoningDHV's Annual Report 2020 and Responsible and Sustainable Business Update 2020 for the period January 1 to  December 31 2020 will be available on 30 March 2021 on www.royalhaskoningdhv.com/annualreport.
Tags