September 2023 on track to be the warmest year on record.
October 6, 2023
Posted by:

Sinead Sprigg

Category:

Environmental, Global, Water Issues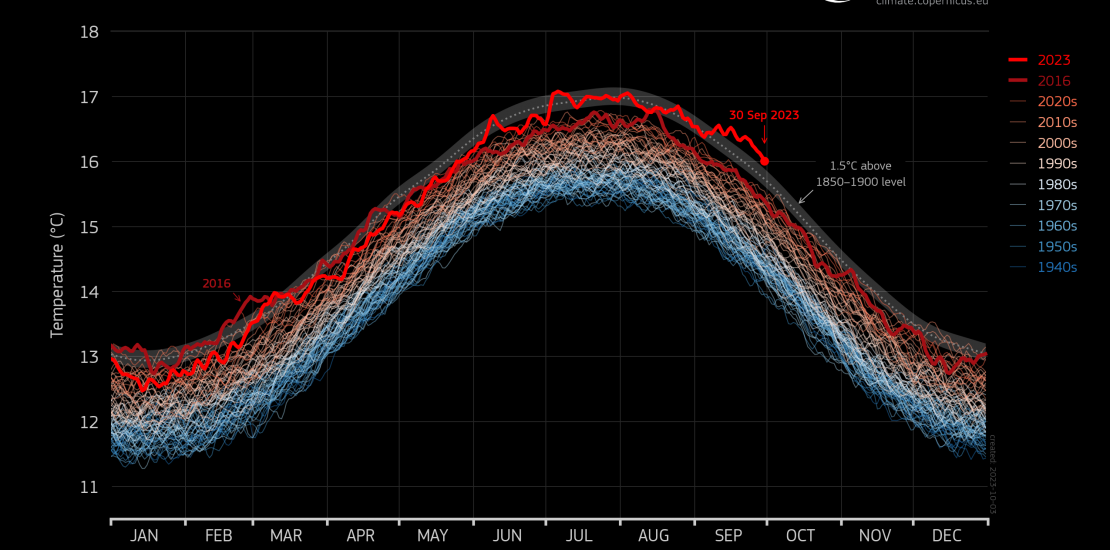 The Copernicus Climate Change Service (C3S) relies on computer-generated analyses using data from satellites, ships, aircraft, and weather stations worldwide to monitor climate variables and provide critical insights into climate change trends. Copernicus, funded by the European Union, plays a vital role in Earth observation and environmental monitoring.
This month, Copernicus reported record global surface air temperatures, marking the warmest September on record worldwide. The average surface air temperature for the month was 0.93°C above the 1991-2020 average, surpassing the previous record set in 2020.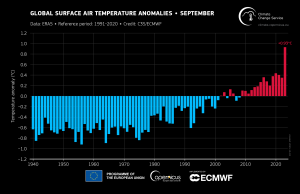 September 2023's temperature anomaly was the most extreme in the ERA5 dataset, dating back to 1940. Compared to the preindustrial period of 1850-1900, the month was approximately 1.75°C warmer.
The global temperature for the first nine months of 2023 exceeded the average, with a 0.52°C increase compared to the warmest calendar year on record, 2016. The year 2023 to date is also 1.40°C warmer than the preindustrial average.
Europe experienced its warmest September on record, with temperatures soaring 2.51°C above the 1991-2020 average and surpassing the previous record in 2020 by 1.1°C.
In addition to soaring temperatures, sea surface temperatures were exceptionally high, with an average of 20.92°C over 60°S–60°N, the highest for September and second highest across all months, behind only August 2023.
Antarctic sea ice remained at a record low, and the Arctic Sea ice reached its lowest annual minimum, underscoring the impact of rising temperatures on polar regions.
Hydrological conditions in September varied, with wetter-than-average regions in parts of Europe, Greece, southern Brazil, and southern Chile, while drier-than-average conditions prevailed in parts of Europe, the southeastern USA, Mexico, central Asia, and Australia.
Samantha Burgess, Deputy Director of C3S, emphasized the urgency for ambitious climate action, given the extreme temperatures observed in September 2023: "[t]he unprecedented temperatures for the time of year observed in September – following a record summer – have broken records by an extraordinary amount. This extreme month has pushed 2023 into the dubious honour of first place – on track to be the warmest year and around 1.4°C above preindustrial average temperatures. Two months out from COP28 – the sense of urgency for ambitious climate action has never been more critical."
Read the full bulletin here.
Tags