US – Department of Defense warns over risks of climate change to critical infrastructure
January 22, 2019
Posted by:

administrator

Category:

Environmental, Arctic & Antarctica, North America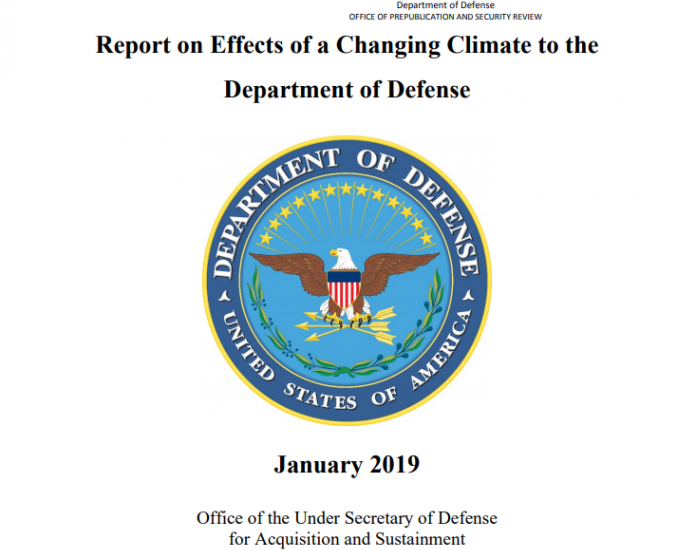 The US  Department of Defense has published a new report warning over the growing risks to its critical infrastructure and operational effectiveness from the impacts of climate change.
The Report on Effects of a Changing Climate to the Department of Defense provides an assessment of the significant vulnerabilities from climate-related events in order to identify high risks to mission effectiveness on installations and to operations.
According to the study, the effects of climate change are a national security issue with potential impacts to Department of Defense (DoD or the Department) missions, operational plans and installations. The DoD has focused on 79 mission assurance priority installations based on their operational role.
The report identifies the following key climate-related events and examples of their impacts to the selected military installations:
Recurrent flooding
Drought
Desertification
Wildfires
Thawing permafrost
About two-thirds of the 79 installations are vulnerable to current or future recurrent flooding, more than one-half are vulnerable to current or future drought and  about half are vulnerable to wildfires.
The report also highlights vulnerabilities to mission execution and operational plans in a number of key areas, including:
Country Instability Issues
Logistics and Mission Support Issues:
Arctic Region Issues
Humanitarian Assistance/Disaster Relief
Defense Support of Civil Authorities
The report says the Department considers climate change resilience in the installation planning and basing processes to include impacts on built and natural infrastructure, including in the event of loss or damage to critical energy and water.
To better adapt to climate impacts, the DoD is also updating various built and natural infrastructure design standards. In April 2016 its Coastal Assessment Regional Scenario Working Group published a report that provided a database with regionalized sea level scenarios for 1,774 DoD sites worldwide for three future time horizons  – 2035, 2065, and 2100.
The  report concludes by pointing out that "future" in the analysis means only 20 years in the future, saying:
"Projected changes will likely be more pronounced at the mid-century mark; vulnerability analyses to mid- and late-century would likely reveal an uptick in vulnerabilities if adaptation strategies are not implemented."
Click here to download the report in full
Tags