Venice hit by worst floods in half a century – over 80% of city under water
November 15, 2019
Posted by:

administrator

Category:

Environmental, Water Issues, Europe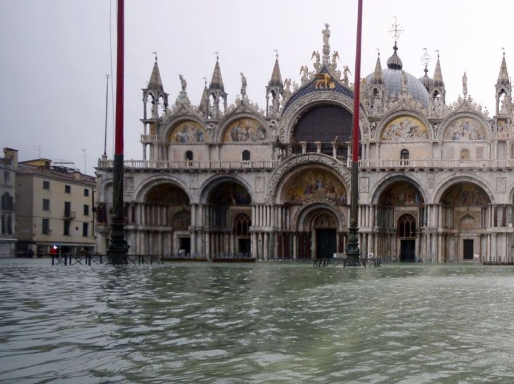 Over 80$ of Venice is now under water as the city is hit by the worst floods in half a century.
Earlier this week President Conte of Italy visited Venice to take stock of the damage caused by the bad weather.
The Italian Government has declared a state of emergency – millions of euros are now being allocated for the first resources for relief and the restoration of services.
With more rain expected today and throughout the weekend , the flood waters are expected to rise further still. The historic city has  flooded for second time in a week – the lowest and oldest part of the Basilica of the centuries-old St Mark's Cathedral has been submerged under water.
The Mayor of Venice Luigi Brugnaro has expressed serious concern is about the outside of the building and integrity of its external columns because of repeated exposure to flood waters – the Mayor has now asked police to block off St Mark's Square and close it to tourists.  Luigi Brugnaro has attributed the severe flooding as a direct result of climate change.
The authorities have predicted that high tide would peak at 160cm (5.2ft) – far beyond normal conditions when levels of 80-90cm are generally seen as high but manageable.
There is also mounting and wide-ranging criticism that construction of a flood barrier in the lagoon which began in 2003 and was intended to prevent the flooding  has still not been completed and is not yet fully operational.
Billions of euros have already been invested in the Moses project – the flood barriers will be handed over to Venice city council at the end of 2021 following the final phase of testing, according to the Italian infrastructure ministry.
There are also calls for the world to help Italy tackle the flooding because of the city's historic importance. Founded in the 5th century AD and spread over 118 small islands, the city of Venice and its lagoon have been designated as a World Heritage site by UNESCO.
Four months ago the city's own Mayor Luigi Brugnaro urged Unesco to place the city on its world heritage site blacklist saying he had no faith in Italy's government to resolve the ongoing problem of visiting cruise ships after Italy's transport minister failed to endorse a plan to divert ships from the busy Giudecca canal.
Tags