Veolia offers mobile water services to clients in the Middle East
July 16, 2020
Posted by:

Elaine Coles

Category:

Companies, Technology & Innovation, Water Treatment, Middle East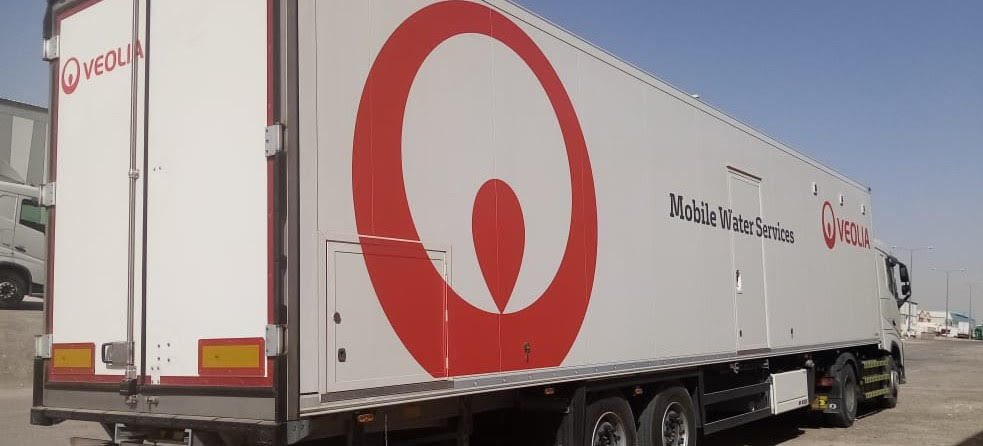 Veolia Water Technologies is bringing its proven mobile water services expertise to clients in the Middle East.
The company said its track record for rapid response and delivering service excellence is unrivalled and enables industrials to maintain production operations at all times.
The service is provided by a fleet of mobile water treatment units based in Saudi Arabia, that may be deployed as stand-alone units or combined to form complete systems, using proven and up-to-date water purification technologies.
The wide range of solutions offered includes ion exchange deionization and softening, brackish water and seawater reverse osmosis (BWRO and SWRO), clarification, dissolved air flotation (DAF), and biological water treatment (MBR, MBBR), to name a few.
With a worldwide fleet encompassing more than 350 assets, Veolia's mobile water services allow companies in the power, oil & gas or petrochemical sectors, as well as in lighter industries such as food & beverage, pharmaceutical or pulp & paper, to benefit from a reliable and secure source of treated water 24/7, 365 days per year, to supply their core operations.
The rental water treatment units can be used for emergencies, planned maintenance, or multi-year service. Laurent Hanique, Middle East Service Director for Veolia Water Technologies commented:
"By immediately providing a temporary water supply, our mobile units ensure operations can carry on without costly downtime or production interruptions in case of plant failure, for instance"
"They are also a great solution during planned maintenance or refurbishment projects, or to quickly procure extra water treatment capacity to cover temporary needs".
With flow rates from 500 m³/day to 10,000 m³/day, the mobile water treatment technologies are pre-packaged on a trailer, skid, or container for maximum mobility and rapid response. Available as standard or modular systems, they are pre-engineered with 'plug-and-play' connections for ease of use.
Veolia Resin Regeneration Station in Riyadh
Ion exchange is a process widely used for water softening in power plants, pharmaceutical, chemical and petrochemical industries, as well as residential applications. In this process, ions are exchanged between a solution and an ion exchange resin, either anionic or cationic; after some operation time, the resin needs to be regenerated.
Veolia is building a Resin Regeneration Station in Riyadh, Saudi Arabia, which will be able to regenerate an important volume of resin by using an effective, high-quality regeneration process.
The local station will make the demineralization trailers more reliable, while minimizing delays and costs due to long-distance shipping to get the service in Europe. Veolia's Resin Regeneration Station is planned to enter service by the end of 2020.
Present in the region for over 40 years, Veolia Water Technologies relies on more than 1,000 employees in the Middle East.
Tags