WWF calls for new financing mechanisms as part of global collective action on water risks
December 6, 2018
Posted by:

administrator

Category:

Environmental, Global
International NGO WWF is calling for a scale up of collective action globally to tackle water risks – especially through engagement with the financial sector around both risk and opportunity.
The call comes in a new WWF briefing report – Water Stewardship Revisited: Shifting the narrative from risk to value creation
"Collective action and positive engagement in water governance are not public relations exercises, but rather core to strategy, finance, marketing and operations," according to WWF.
Launching the new report, the NGO said that water stewardship remains a critical concept for companies and investors to embrace and implement, but one that is at a crossroads.
Since the publication of its first Water Stewardship Brief paper in 2013 WWF said the drivers have grown from corporate water risk and been mainstreamed into economic water risk, value and purpose.
Alexis Morgan WWF Stewardship Lead and author of the new report, said that while the 2013 brief was well received by governments, companies and investors, the landscape had evolved since then.
Billions of dollars being lost by investors & companies from water risk
The 2018 Water Stewardship Brief is highlighting the fact that the world's water challenges have continued to grow.
According to the WWF report, there has been an alarming 81% decline in freshwater species abundance since 1970, millions of people at now at risk from water scarcity and pollution, and billions of dollars are being lost by investors and companies from water risks.
"We continue to hear about cities running dry, the growing risks that water challenges pose to our global economy, and the decline in freshwater species….the result is a world with rapidly diminishing freshwater biodiversity, and degraded rivers, wetlands and forests causing a loss of valuable services to society." the Brief says.
It also flags up the rise in the frequency and strength of natural disasters in the face of growing impacts from climate change, coupled with growing conflicts around water which have even led to it being "at the heart of a growing concern by national security agencies."
WWF is now calling on its corporate partners – the leading water stewardship companies – to raise their level of ambition and for wider further action on a number of key issues, including:
Harnessing opportunities to mobilize climate resilience funds
Mobilizing new forms of finance – including deploying new approaches to recognize the value of water
Building capacity in the next wave (notably lagging peers and suppliers)
Alignment of collective action efforts
Improved contextual performance that leverages new technologies & data sources
Linkage between formal and informal water governance
Unlock the Fourth Industrial Revolution (4IR)
Bridge the collective action chasm
Ability to mobilize funds for collective action is critical challenge that needs to be addressed
However, commenting on the funding needed the WWF acknowledges:
"Collective action is not fast, nor cheap and companies, especially sustainability teams, do not have unlimited budgets. The ability to mobilize funds to enact collective action is a critical challenge that needs to be addressed."
The NGO is currently exploring how to mobilize new forms of finance, from government pay-for-performance bonds to other commercial lenders to mobilize the hundreds of millions of dollars that are needed.
Rise in investor awareness a primary driver to strengthen water stewardship
The primary drivers of water stewardship remain largely the same as they were in 2013, though arguably the drivers have grown stronger, the WWF says. Investors drawing on CDP Water data are increasingly not allowing companies to ignore basin risks as it continues to increasingly affect shareholder value. The NGO expect the calls for more meaningful action to protect and increase shareholder value to grow louder.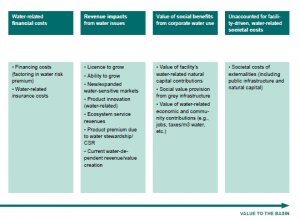 Water stewardship can protect and grow value for business rather than simply minimising risk
Over the past few years WWF has been suggesting that companies increasingly need to frame water stewardship as an approach that can protect, manage and grow value, rather than simply why stewardship is needed to minimize risk.
"Water issues can impact multiple aspects of an income statement – be it costs or revenues, the report says.
Risk seems to manifest as short-term driver for many companies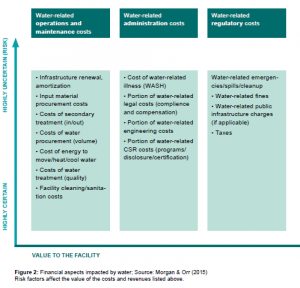 However, the report warns that the WWF has continued to find that motivations and human behaviour in companies veer towards the short-term and that once the drought/flood/spill/etc. crisis passes, the "amnesia" sets in. "Risk seems to manifest as a short-term driver for many companies, when in fact it is a long-term issue."
According to WWF, exposure to water risks is continuing to grow as more users harness more water and as weather patterns grow more erratic. The NGO says that despite the rising risk levels, it continues to witness weak and misaligned responses to water risks, commenting:
"While not "greenwashing", it has become apparent that the brand and reputational risk motivator is often more material than the physical water risk motivator – until such time as a disaster/risk manifests and the physical reality motivates a knee-jerk response, but often in a cost ineffective manner."
Harness the climate resilience opportunity to scale basin finance
According to the WWF, despite the fact that billions of dollars are available to support climate adaptation, neither companies nor NGOs working on water risks have "truly tapped into the funds" to help scale up work on climate change resilience.
An estimated additional US$2.5 trillion annually is needed to meet the Sustainable Development Goals (SDGs) – water-related infrastructure makes up about a third of this amount.
Accessing the funds could help scale up adaptation efforts through water resilience and stewardship.
WWF – Bankable Projects initiative to leverage multi-million dollar investments
As part of its ongoing work to tackle global water challenges, WWF has launched Bankable Water Solutions, a new initiative aimed at leveraging tens to hundreds of millions of dollars to scale up basin investments that address shared water challenges.
The Bankable Projects initiative aims to transform the investment landscape, redirecting substantial financial flows into sustainable water projects in river basins.
According to WWF, while investors and banks are investing heavily in water-related infrastructure and are keen to invest in more sustainable water projects, there is currently no pipeline of viable projects.
WWF is aiming to help to bridge the investment gap by catalyzing a stream of bankable projects, while at the same time providing investors with an acceptable return on their investment.
The projects can range from clean-tech investments to solar and wind energy to natural flood protection. The NGO said it has already collected 37 ideas for potential bankable projects in 24 river basins. Some are at a conceptual phase, while others are heading towards implementation.
The initiative is intended to help catalayze blended finance via WWF's ability to create projects at the right scale to attract investors and crucially link the cumulative impacts of the projects. The NGO said it has the ability to capitalise on the existing relationships it has developed with various financial institutions, including public and private institutions, banks and investors and broker new relationships and opportunities.
In addition, WWF also knows the suppliers (assets) and the supply chains that add interest, capital, pressure and legitimacy to these investments. The NGO said that it can therefore involve the global brands – the companies that source from these areas – and involve them in the solutions that emerge.
Many of the issues will be explored at the upcoming FT Water Summit presented by the Financial Times newspaper in association with WWF which takes places in London on 17thOctober.
Margaret Kuhlow, Finance Practice Leader, WWF will be one of the keynote speakers at the Summit  taking part in a high-level panel discussion on what has held investors back and how to unblock the billions of dollars available for investment in water stewardship companies and sustainable water projects.
Click here to download Water Stewardship Revisited
WaterBriefingGlobal is media partner with the Financial Times upcoming FT Water Summit Opening the Floodgates: Unleashing Returns from Water Investments which takes place in London on 17th October 2018
Click here for further information about the Summit
Click here for details of how to register for the Summit
Tags