WWF warns global forest wildlife populations in significant decline
August 27, 2019
Posted by:

administrator

Category:

Environmental, Global, Water Issues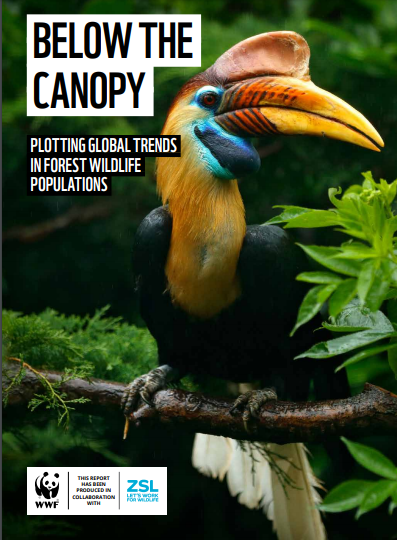 WWF report - Below the Canopy
The first-ever global assessment of forest biodiversity by WWF, Below the Canopy, shows that monitored forest-dwelling wildlife populations have shrunk on average by more than half (53%) since 1970.
The new report highlights the multitude of threats forest-living species are facing and shows that habitat loss and degradation, primarily caused by human activity, is the cause of 60% of the threats to forests and forest species. Declines were greatest in tropical forests, such as the Amazon rainforest.
The landmark report shows forests, which are home to well over half of the world's land-based species and one of the world's most important carbon sinks, are vital to the health of the planet.
WWF is now calling on world leaders to declare a planetary emergency and secure a New Deal for Nature and People by 2020 to stop climate breakdown, safeguard the planet's remaining natural spaces, and make the current consumption and production model more sustainable. Protecting and restoring forests must be at the heart of this agreement, WWF says.
"Forests provide us with the essentials for life on our planet, yet these same forests depend on the wildlife that reside in them to maintain their health and vitality," said Shubash Lohani, Senior Director, Forests, World Wildlife Fund. "This report is a wake-up call that we can't stand idle when it comes to protecting our forests and the abundant life that keep nature's diversity intact. Immediate action is needed on a global scale to protect and restore nature while keeping our forests right side up."
The Forest Specialist Index, developed by WWF following the Living Planet Index methodology (used within WWF's flagship Living Planet Report), focuses on species that depend entirely on forests, which means this indicator provides an accurate representation of forest ecosystem health.
UNEP-WCMC co-led the analysis and modelling for this report in collaboration with the Zoological Society of London (ZSL).
The Forest Specialist Index shows that monitored populations of forest-living birds, mammals, amphibians and reptiles declined, on average, by 53% between 1970 and 2014, the most recent year for which data is available. Most of this loss is occurring in the tropics, where there is most wildlife to lose.
"The first step towards protecting threatened wildlife is understanding trends in their populations and what drives their decline. By focusing our well-established Living Planet Index to create a new indicator for forest species, we can look below the canopy to see how wildlife within those forests are faring," said Louise McRae, Conservation Scientist, Zoological Society of London and report author. "Our analysis does just this, and reveals that many of the animal species that rely entirely on forests are dropping in number. Using this new indicator, we can continue to track forest wildlife and measure progress towards international agreements and biodiversity targets."
Urgent global action needed
The Forest Specialist Index also assessed whether forest cover alone – the most commonly used indicator globally – was an accurate indication of the health of wildlife below the canopy. The research found that while tackling deforestation and increasing forest cover are both essential to restore nature, these are steps alone are not sufficient.
WWF says that protecting wildlife and reversing the decline of nature requires urgent global action.
The report points to 2020 as a crucial year for securing international agreements for a New Deal for Nature and People, through a commitment by heads of state at the 75th United Nations General Assembly.
World leaders are also expected to review the progress made on the UN Sustainable Development Goals, the Paris Agreement and, crucially, negotiate new 10-year targets for the UN Convention on Biological Diversity (CBD).
Click here to download Below The Canopy
Tags