Zeeland coastline reinforced by Van Oord's new LNG hopper dredgers.
November 8, 2023
Posted by:

Sinead Sprigg

Category:

Companies, Corporate, Engineering, Environmental, Technology & Innovation, Water Issues, Water Treatment, Europe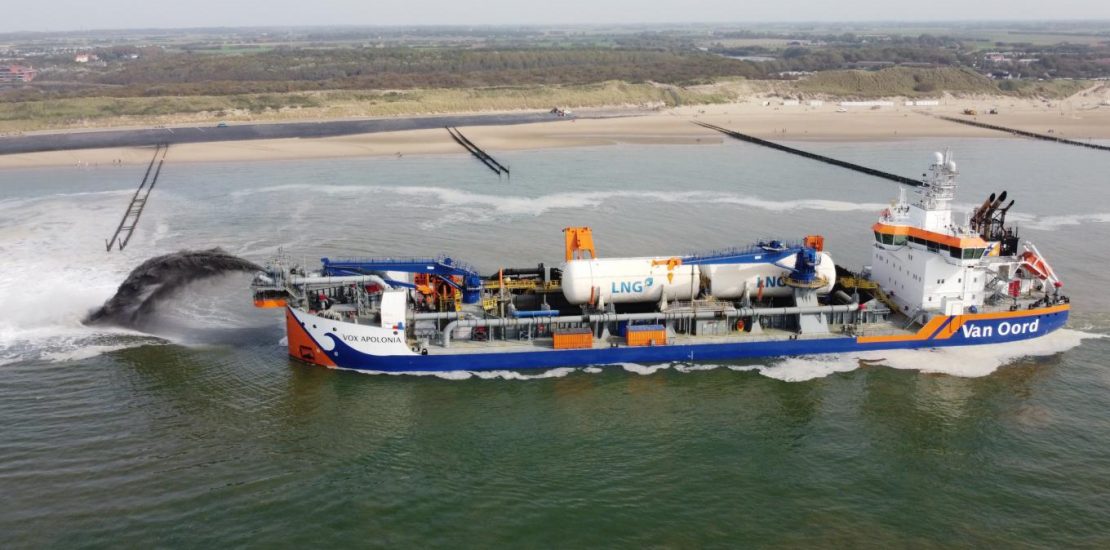 Van Oord, a prominent maritime contractor, has successfully completed beach nourishment projects along the coast of the Dutch province of Zeeland. The initiative has led to the stabilisation of the coastline, offering enhanced protection to coastal towns and infrastructure for the foreseeable future. The project, conducted as part of the Coastline Care program of Rijkswaterstaat, the executive agency of the Dutch Ministry of Infrastructure and Water Management, saw the deployment of Van Oord's three new hopper dredgers, including the recently christened Vox Alexia.
During the project execution the vessels used liquefied natural gas (LNG) as a sustainable fuel alternative. The use of LNG, devoid of sulfur and particulates, aligns with the broader environmental goals set by Rijkswaterstaat, aiming for net zero CO2 emissions and fully circular operations by 2030.
To fortify and safeguard the Zeeland coast, Van Oord implemented sand replenishment activities at Westkapelse Zeedijk and Nieuwvliet-Groede. The hopper dredgers collected sand from the seabed, pumping it through a pipeline to the beach. Natural forces such as weather and wind were then leveraged to facilitate further spreading and the growth of dunes, reinforcing the coast.
Additionally, the Oostgat shipping channel underwent replenishment, with the channel wall being backfilled with sand. This adjustment ensured that the channel, now positioned farther from the shore, mitigated sand erosion from the beach.
The total volume of applied sand amounted to approximately 4 million cubic meters, a measure used not only for coastal safety but also for the preservation of nature conservation areas, recreational opportunities, and drinking water extraction.
Van Oord used three new LNG suction dredgers—Vox Ariane, Vox Apolonia, and Vox Alexia. The decision to power the vessels with LNG contributed to Van Oord being awarded the project by Rijkswaterstaat.
Silvester Vermunt, Contract Manager at Rijkswaterstaat, commended the collaborative efforts, stating, "Thanks to the beach nourishment that companies like Van Oord carry out for us, the Netherlands remains well protected from the sea. We work not just with nature, but also in the midst of it. To reduce emissions from the coastline maintenance work, we very much need the expertise and innovativeness of the contractors. Companies that take measures to reduce their nitrogen and CO2 emissions have an edge when tendering for sand replenishment contracts. We at Rijkswaterstaat are therefore pleased that Van Oord was immediately able to deploy these three new LNG-hopper dredgers for us along the Zeeland coast. Bon voyage, Vox Ariane, Vox Apolonia, and Vox Alexia!"
Tags