Pennsylvania American Water announces $6m plan for water storage upgrades 
May 27, 2020
Posted by:

Lyn Wilson

Category:

Companies, North America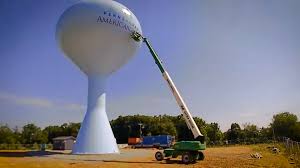 Pennsylvania American Water has unveiled its proposals for 2020 to restore seven of its water storage tanks.
The rehabilitation program is intended to extend the service lives of the tanks, protect water quality and includes inspecting, sandblasting and repainting them.
Pennsylvania American Water has financed an excess of $34 million to maintain, rehabilitate and construct water storage tanks in the past five years. In 2020 the overall cost of the company's water storage improvements is roughly $6.1 million.
Mike Doran, Pennsylvania American Water President said:
"Storage tanks are a critical part of our water infrastructure to provide adequate supplies to meet customer demands and provide fire protection for our communities, properly maintaining tank benefits our customers because of the cost efficiencies we can achieve by rehabilitating rather than replacing them."
Apart from tank projects Pennsylvania American Water intends to invest $362 million in infrastructure improvements during 2020 which will in turn help the economy supporting over 5,000 jobs.
Pennsylvania American Water, the largest investor-owned water utility in the state, is a subsidiary of American Water and offers reliable water of superior quality and wastewater services to approximately 2.4 million inhabitants.
American Water (founded in 1886), headquartered in Camden, New Jersey employs approximately 6,800 professionals and is the leading and most geographically diverse publicly traded water and wastewater utility company. The US organization provides regulated and market-based drinking water, wastewater and other related services to an estimated 15 million people in 46 states.
Tags