Acciona to use €100m EU loan for innovation in renewable energy, infrastructure &  water treatment
January 22, 2018
Posted by:

administrator

Category:

Investment and Finance, Europe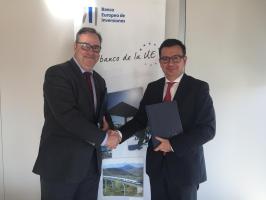 The European Investment Bank (EIB) is helping Spanish multinational Acciona to develop its innovation and digitalisation activities with a €100 million loan. The agreement signed by EIB Vice-President Román Escolano and Acciona's Chief Financial Officer, Carlos Arilla, is supported by the European Fund for Strategic Investments (EFSI).
The EIB funding will enable Acciona to undertake a range of investments in strategic sectors for the company, such as renewable energy, infrastructure and water treatment. The activities will be carried out at Acciona's technological research centres in Madrid, Pamplona and Barcelona. The digitalisation investments will be made across the company's different business lines.
Acciona's innovation and digitalisation programme will enable the application of new technologies to optimise the construction, operation and remote control of its electricity generation plants.
In the water sector, the company will be able to implement more sustainable biological water treatment, desalination and purification processes. Acciona will also bring innovations to its infrastructure construction technologies, increasing the recycling of waste materials to strengthen the circular economy.
Carlos Arilla, Acciona's Chief Financial Officer, said when signing the agreement that "the commitment of Acciona and the private sector to combat climate change is undoubtedly a factor of economic growth", adding that "the institutional and financial support of institutions like the EIB are key to developing mechanisms and incentives that will help to mitigate global warming".
Arantza Ezpeleta, Acciona's Chief Technology and Innovation Officer, said the loan would enable the company to simultaneously boost digitalisation and innovation in advanced technologies for application in Acciona's business in order to gain competitive advantages in the areas of sustainable infrastructure and clean power generation.
Tags