Canadian Government to buy Kinder Morgan's Trans Mountain Pipeline for C$4.5 billion
May 29, 2018
Posted by:

administrator

Category:

Investment and Finance, North America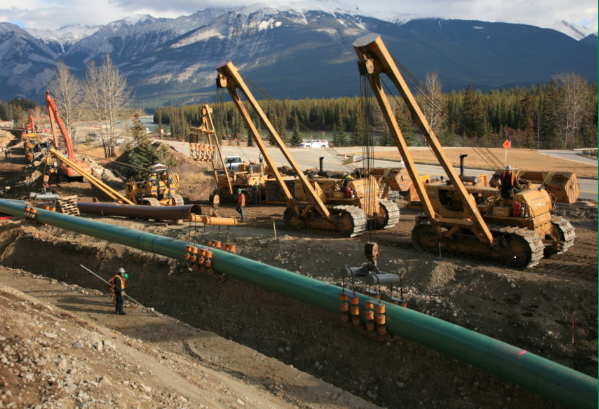 The Canadian Finance Minister, Bill Morneau announced this morning that the federal government has reached an agreement with Kinder Morgan Canada to purchase the existing Trans Mountain pipeline and infrastructure related to the Trans Mountain Expansion Project (TMEP) for CAD$4.5 billion (£2.6 billion).
As part of the agreement, the Government of Canada has agreed to fund the resumption of TMEP planning and construction work by guaranteeing TMEP's expenditures under a separate Federal Government recourse credit facility until the transaction closes.
The parties expect to close the transaction late in the third quarter or early in the fourth quarter of 2018, subject to KML shareholder and applicable regulatory approvals.
"We are pleased to reach agreement on a transaction that benefits the people of Canada, TMEP shippers and KML shareholders," said KML Chairman and Chief Executive Officer Steve Kean.  "The outcome we have reached represents the best opportunity to complete TMEP and thereby realize the great national economic benefits promised by that project."
KML expects its approximately 30%  share of after-tax proceeds to be approximately C$1.25 billion.
KML will continue to manage a portfolio of strategic infrastructure across Western Canada, including:
An integrated network of crude tank storage and rail terminals in Alberta that is one of the largest in the region;

The Vancouver Wharves Terminal, the largest mineral concentrate export/import facility on the west coast of North America; and,

The Cochin Pipeline system that transports light condensate originating from the United States to Fort Saskatchewan, Alberta.
The Trans Mountain Expansion Project was proposed in response to requests from oil companies to help them reach new markets by expanding the capacity of North America's only pipeline with access to the West Coast.
In November 2016, the Government of Canada granted approval for the Trans Mountain Expansion Project following on from a 29-month review by the National Energy Board which concluded in May 2016 that the Project was in the Canadian public interest and recommended the Federal Governor in Council approve the expansion.
The expansion of the existing 1,150-kilometre Trans Mountain Pipeline between Strathcona County, Alberta and Burnaby, BC create a pipeline system with the nominal capacity of the system going from 300,000 barrels per day to 890,000 barrels per day.
Greenpeace warn tar sands pipelines cross 1000+ watercourses and will jeopardize drinking water, rivers and streams 
In response, Hannah Martin, oil supply campaigner at environmental organisation Greenpeace, said:
'"Prime Minister Justin Trudeau is gambling billions of Canadian taxpayer dollars on an oil project that will never be built – a project that Kinder Morgan itself, one of North America's largest energy companies, has indicated is 'untenable'.  His decision today is in stark contrast to his supposed climate credentials and his commitment to Indigenous rights.
"It's ironic that Trudeau made this decision on the same day that Royal Bank of Scotland  became the latest global bank to scale back financing for tar sands projects – following the lead of both BNP Paribas and HSBC.
"Kinder Morgan ran away in the face of an indigenous-led movement of people against oil pipelines. These communities have already put one pipeline company on notice – now it's time show the Canadian government that this pipeline cannot and should not be built."
The new pipeline Kinder Morgan is building (called the Trans Mountain Expansion project) will run 1,150-km from the Alberta tar sands in Western Canada to Westridge Marine Terminal in Burnaby, British Columbia for export.
Greenpeace said the tar sands pipelines cross more than a thousand watercourses, jeopardizing drinking water, rivers and streams along the way. The Trans Mountain pipeline crosses over 1,300 waterways in Alberta and British Columbia.
HSBC, Europe's biggest bank, is the latest to say it won't fund new pipelines dedicated to the tar sands sector. French banks BNP Paribas and Natixis, Dutch bank ING, insurance and investment giant Axa and Sweden's largest pension fund, AP7, all made similar announcements in 2017.
Tags