Canadian wastewater heat recovery technology to roll out installations across Scotland
March 20, 2018
Posted by:

administrator

Category:

Technology & Innovation, Europe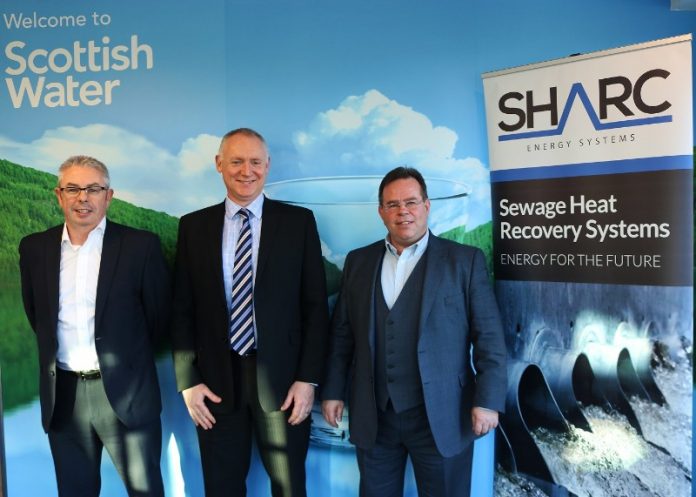 SHARC Energy Systems, a wholly owned subsidiary of Canada-headquartered Sharc International Systems Inc. based in Vancouver BC, has joined forces with Scottish Water Horizons to set up a joint venture which will see the deployment of wastewater heat recovery systems expanded and accelerated across Scotland.
The joint venture company – to be known as Bandwidth Energy Ltd -has been set up to manage the installation and maintenance of a number of key green energy projects which are currently in the advanced stages of planning.
SHARC Energy is providing the design, build and operational expertise for the installations, while Scottish Water Horizons will provide commercial funding for the projects.
Scottish Water Horizons Ltd is a commercial subsidiary wholly owned by Scottish Water.
The new alliance is the result of three years of informal collaboration between SHARC and Scottish Water Horizons, which has created a £20 million pipeline of potential installations across Scotland that, when deployed, would generate 170 GWHs per year of heating and cooling to displace the fossil fuel currently used.
The expansion of heat from wastewater programme follow the launch of the UK's first Sewage Heat Recovery system, developed and installed by SHARC and facilitated by Scottish Water Horizons, at Borders College in Galashiels, which aims to displace 1.8 GWhs (Giga Watt hours) of natural gas and save over 150 tonnes of carbon emissions per year.
The Scottish Government is supporting the schemes by providing 50% grant capital support through its LCITP (Low Carbon Infrastructure Transition Programme).
The system provides heating and cooling to customers through a heat supply agreement. This works much like that of any energy supplier, but the main difference is that customers have no up-front costs.
Included in the heat supply agreement are the costs of design, installation, servicing and maintenance and the supply of equipment.
The innovative SHARC system, which has been deployed in numerous international locations, intercepts wastewater from sewers and uses heat pump technology to amplify the natural warmth of wastewater.
This generates an energy-saving, cost-effective and environmentally-friendly system for heating, cooling and hot water production in commercial and residential buildings.
SHARC Energy Systems' parent company Sharc International Systems Inc. is based in Vancouver BC Canada and is a publicly listed company trading on the Canadian Stock Exchange), the Frankfurt Börse and the New York Nasdaq junior exchange.
SHARC Energy Systems brought the technology to the UK for the first time and provides a full design, manufacture and installation service. The SHARC system is suitable for both new build and retrofit projects on residential and commercial developments.
Unique in both the UK and Europe, the system generates energy-saving, cost-effective and environmentally-friendly solutions for heating, cooling and hot water for commercial and residential buildings.
SHARC Energy Systems is now moving into the commercialization of its patented SHARC™ and PIRANHA™ systems after six years of research and development. With its newly established European HQ in Glasgow, Scotland, and a number of successful installations across North America, UK, and Australia, the company has embarked upon an ambitious plan to grow its business worldwide.
Commenting on the joint venture, Russ Burton, SHARC said:
"This announcement is a very exciting step for SHARC and represents the culmination of three years of very productive working with Scottish Water Horizons to identify opportunities for the SHARC technology.
"Having the support from Scottish Water Horizons will give customers confidence in the SHARC technology, positioning it as a sustainable and viable wastewater heat recovery solution.
"With gas prices constantly fluctuating, our heat supply agreement gives cost certainty by guaranteeing the price for the length of the agreement."
Tags