COP24 – latest step in global climate agreement fails to fully embrace IPPC findings
January 30, 2019
Posted by:

administrator

Category:

Conferences, Environmental, Global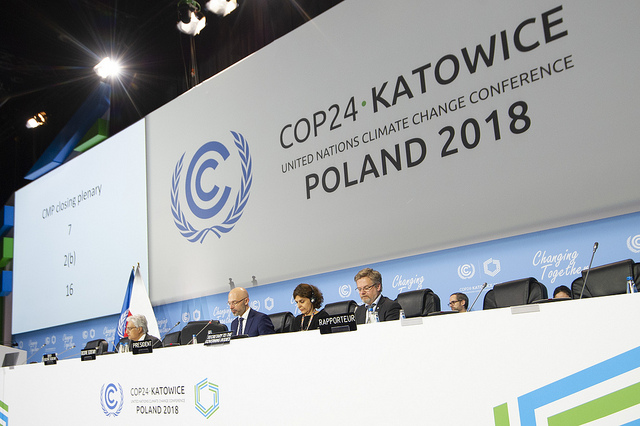 The Global Climate UN – COP24 in Katowice made further progress towards implementation of the Paris Agreement but failed to fully embrace the findings of the  Intergovernmental Panel on Climate Change (IPCC) which warned two months ago that warming which reached 1.5C above pre-industrial levels would have serious consequences.
Negotiators from 196 countries and the European Union worked for two weeks on the Katowice Climate Package, implementing the Paris Agreement.
The negotiations covered a number of different topics regarding principles aimed at implementing the Agreement, which was signed in 2015, including finance, transparency and adaptation are some of its aspects.
For two weeks, a wide range of issues were discussed – some fundamental, others very detailed and technical – resulting in a complex and difficult document.
COP24 President Michał Kurtyka commented during the plenary session which concluded the summit:
"We have been working on this package for three years. When we have to deal with positions of almost 200 Parties, it is not easy to find an agreement concerning a multi-aspect and technical deal. Under these circumstances, each step forward was a great achievement."
"Our common efforts didn't consist solely of producing texts or defending national interests. We were conscious of our responsibility to people and commitment for the fate of Earth, which is our home and the home of future generations who will come after us."
Heads of state, government and almost 100 Ministers of the Environment and of Foreign Affairs from all over the world attended the conference. Katowice has now become, after Kyoto and Paris, another milestone on the way towards a sustainable global climate policy.
In the Katowice Rules, different parties adopted a path that will be followed by each of them when it comes to stepping up actions for climate protection.
The Polish Presidency at COP24 also initiated three declarations, which have been broadly supported by the Parties. On the first day at COP24 President Andrzej Duda made a statement about the just transformation based on solidarity. Its adoption was described as the most important point of the Summit of Heads of States and Governments.
Key elements agreed at the conference included how governments will measure, report on and verify their emissions reductions. However  how countries will step up their targets on cutting emissions was largely absent from the technically focussed talks.
Currently the world is on course for 3C of warming from pre-industrial levels – despite reductions in recent years, the world's carbon emissions are once again rising.
The conference failed to adopt the IPCC's findings in full – the United States and Russia, together oil states Kuwait and Saudi Arabia water down a statement to a weak commendation on the timing of the IPPC report.
Looking ahead, the UN will meet again in Chile in 2019 to scope out the final elements of the Paris rulebook and start working on future emissions targets.
Tags