Deputy President of Kenya warns climate change is depleting Kenyan water resources
May 10, 2019
Posted by:

Elaine Coles

Category:

Conferences, Water Issues, Africa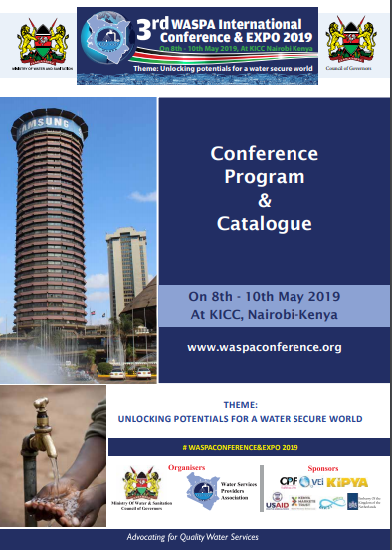 William Ruto, the Deputy President of Kenya is warning that climate change is the cause of shrinking water resources in the country.
Opening the third annual Water Service Providers Association (WASPA) conference in Nairobi on Wednesday , he told delegates:
"Climate change is causing poor and delayed rainfall that in the end result to poor harvests and food insecurity." Depressed rains impacted negatively on critical sectors of the economy while escalating inflationary pressures on citizens, he added.
Commenting on Twitter during the course of the two day conference, the Deputy President said that future water demand was going to heighten and that fundamental components of the Big 4 agenda will call for water-intensive agribusiness, industrial, construction and other activities on an accelerated basis.
He also called for a  10 percent increase in forest cover to mitigate the perennial cycle of droughts, floods, drying of up rivers, wells and springs and the lowering of the water table which are attributal to climate change and destruction of forests.
"Water increasingly recognized as the key factor underlying sustainability and security of Kenya development"
Introducing the conference, Simon Chelugui, Cabinet Secretary for Water and Sanitation said:
"Water has increasingly been recognized as the key factor underlying sustainability and security of Kenya development."
According to the Cabinet Secretary, the Kenyan Government will fully support the principles of affordability of services in a responsibly commercialized approach. This includes mobilizing adequate resources to fully finance operational and new capital costs while existing systems are modernized.
He continued:
"Unfortunately, the world a whole is continuously witnessing the impacts of climate change characterized by changing weather patterns, prolonged droughts, and famine.
"Our water resources are continually dwindling with the effect that the per capita needs will likely not be properly met. As residents of the region, we must be prudent in our water use practices. We cannot afford to waste a resource that is increasingly becoming scarce. And as we are aware of the simple solutions such as conservation, we must now also embark on water harvesting, and storage."
He went on to warn that while Kenya has achieved remarkable economic growth in the last decade,  the growth trajectory has been interrupted by drought which has led to crop failure, dying herds of livestock, and increased food and energy insecurity – hydropower is  the cheapest source of energy in Kenya). Poor rains increase energy costs and water as a production input, he continued and the  the effects spill over to other sectors resulting in inflation and persistent poverty.
Ministry of Water and Sanitation is continuing to develop 57 large dams for water storage
The Ministry of Water and Sanitation is continuing to plan the development of 57 large dams for water storage to to increase overall national water resources and enhance water security for domestic, industrial and agriculture use.
Construction work has already begun on the Siyoi Muruny Dam to produce 38,800m3/day, Thwake Dam supplying 70,000m3/dm and Karemenu II to supply 70,000m3/d. The construction of Mwache Dam to supply 183,000m3/d and the Bosto Dam to supply 20,000m3/d to Bomet County will commence later this year.
Kenya has natural renewable water resources estimated at 42.1 billion cubic meters per year, consisting of 20.6 billion cubic meters per year of surface water and 21.5 billion cubic meters per year of groundwater recharge.
 Available renewable fresh water resources rapidly diminishing due to population growth
The available renewable fresh water resources is rapidly diminishing due to population growth and the human activities resulting in the depletion and pollution of water sources.
The total available renewable fresh water resource available to the population on a per capita basis, water availability is only 452m3 per capita per year, compared to the international benchmark of  1000m3 per capita per year. Neighbouring coutries Tanzania, Uganda and Ethiopia have more water resources than Kenya. Tanzania has 2,270m3 per capita per year, Uganda 2,800m3 per capita per year and Ethiopia 1,600m3 per capita per year.
The Government is aiming  to achieve universal access to water and sanitation as envisaged under Sustainable Development Goal Number 6. Kenya's current water coverage is 60% while sewerage is 25% in urban areas. The country is on track to achieve 80% water coverage by 2022 and attain the remaining 20% by 2030.
The Ministry is currently in the process of developing a new national water policy with the aim of taking it to Parliament by June 2019.
Click here to download the Conference programme in full.
Tags