Development banks climate change finance hits record high of US$ 35.2bn in 2017
June 15, 2018
Posted by:

administrator

Category:

Global, Investment and Finance
Climate financing by the world's six largest multilateral development banks (MDBs) rose to a seven-year high of US$ 35.2 billion in 2017, up 28 per cent on the previous year.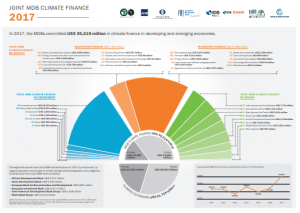 The MDBs' latest joint report on climate financing indicates that US$ 27.9 billion, or 79 per cent of the 2017 total, was devoted to climate mitigation projects that aim to reduce harmful emissions and slow down global warming.
The remaining 21 per cent, or US$ 7.4 billion, of financing for emerging and developing nations was invested in climate adaptation projects that help economies deal with the effects of climate change such as unusual levels of rain, worsening droughts and extreme weather events.
In 2016 climate financing from the MDBs had totalled US$ 27.4 billion.
The latest MDB climate finance figures are detailed in the 2017 Joint Report on Multilateral Development Banks' Climate Finance, combining data from the African Development Bank, the Asian Development Bank, the European Bank for Reconstruction and Development, the European Investment Bank, the Inter-American Development Bank Group and the World Bank Group (World Bank, IFC and MIGA).
The banks account for the vast majority of multilateral development finance. In October 2017 the Islamic Development Bank joined the MDB climate finance tracking groups, and its climate finance figures will be included in joint reports from 2018 onwards.
Climate funds such as the Climate Investment Funds (CIF), the Global Environment Facility (GEF) Trust Fund, the Global Energy Efficiency and Renewable Energy Fund (GEEREF), the European Union's funds for Climate Action, the Green Climate Fund (GCF) and others have also played an important role in boosting MDB climate finance.
As well as the US$ 35.2 billion of multilateral development finance, the same adaptation and mitigation projects attracted an additional US$ 51.7 billion from other sources of financing last year.
Of the 2017 total, 81 per cent was provided as loans. Other types of financial instruments included policy-based lending, grants, guarantees, equity and lines of credit.
Latin America, Sub-Saharan Africa and East Asia and the Pacific were the three major developing regions receiving the funds. The report contains a breakdown of climate finance by country.
Climate finance addresses the specific financial flows for climate change mitigation and adaptation activities. These activities contribute to make MDB finance flows consistent with a pathway towards low greenhouse gas emissions and climate-resilient development, in line with the Paris Agreement on climate change. The MDBs are currently working on the development of more specific approaches to reporting their activities and how they are aligned with the objectives of the Paris Agreement.
EIB Vice-President Jonathan Taylor, responsible for Climate Action and Environment said:
"This report, which focuses on developing countries and emerging economies shows how the MDBs are leading international efforts to mobilise the finance needed to fight against climate change and to report on climate finance in a robust, transparent  and consistent manner."
"The EIB has taken an additional leadership role by helping to coordinate the MDBs' Climate Mitigation finance tracking. I am proud that the EU Bank is well on track to fulfil its commitment to increase climate finance in developing countries to 35% of total financing by 2020, to help turn the Paris agreement into reality."
Click here to download Joint Report on Multilateral Development Banks' Climate Finance
Tags