Home
News
Asia
Eco Expo Asia: Becoming a smart Sponge City crucial to resolving water-related problems
Eco Expo Asia: Becoming a smart Sponge City crucial to resolving water-related problems
October 30, 2017
Posted by:

administrator

Category:

Asia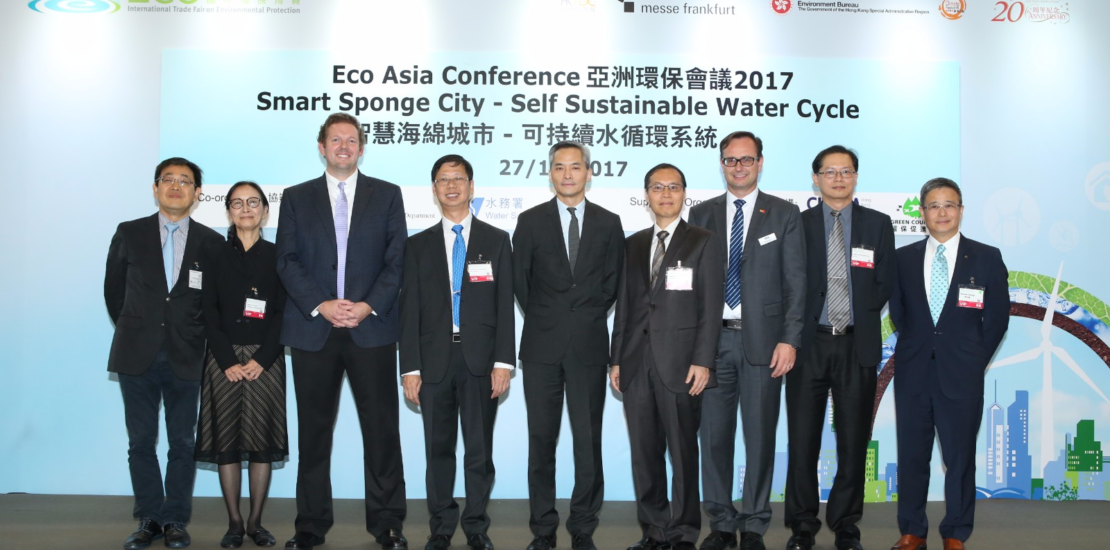 'Smart Sponge City – Self Sustainable Water Cycle', held during last week's Eco Asia Conference saw experts from Hong Kong and overseas discuss the challenges, technological developments and solutions that could help governments better manage the water cycle in their jurisdictions.
The conference was organised by the HKTDC and Messe Frankfurt (HK) Ltd, and co-organised by the Water Supplies Department and Drainage Services Department of the HKSAR Government.
The conference unveiled a number of interesting developments on how countries around the world are tackling a range of water-related issues. In his opening remarks, CL Wong, Deputy Director of Water Supplies, Water Supplies Department, HKSAR Government, said that climate change is bringing about extreme weather change, and countries are having to deal with either too little or too much water.
He said conventional methods of water management are no longer adequate, which is why the concept of a Sponge City – in which cities capture, retain and discharge water without waste – is crucial in resolving water-related problems.
Sponge City concept now has commercial value
The two-session conference was moderated by Dr Vivian Wong, JP, Chairman of Friends of the Earth. She said the Sponge City concept was developed in China two years ago and now has commercial value, which makes it a worthwhile venture for recycling companies, businesses and entrepreneurs to delve into ways to better manage water.
Xaver Storr, CEO of IBS Group in Germany, specialises in flood control in a Sponge City and dealing with ways to protect citizens from floods that are predictable because of consistent weather cycles as well as flash floods.
The IBS solution is to install mobile flood defence walls beside rivers that would raise the embankment and prevent flood waters from running on to the streets. However, this would have a negative impact on natural scenery. To solve this problem, the company ensures that stretches of the wall are transparent. The wall material is light and mobile and can be set up in a matter of hours and dismantled once the danger has passed.
Reliable water supply a powerful engine driving Hong Kong's economic development
The second session started with a talk by Joseph Chung, Chief Engineer (Development 2) Water Supplies Department, HKSAR Government on Sustainable Application of Urban Water Cycle in Hong Kong. Mr Chung recalled Hong Kong's water crisis in the early 1960s when reservoirs were at 2 per cent capacity. The city's planners solved the problem, in part, by pioneering the use of seawater to flush toilets, and reduce fresh water consumption. In addition, Hong Kong started to import water from Dongjiang, in Guangdong province, from 1965, and used large-scale reservoirs in Plover Cove and High Island, both of which now hold 80 per cent of total reservoir capacity.
"As a result, we have had a reliable water supply for the last 30 years and it has been a powerful engine driving the economic development of Hong Kong," said Mr Chung. Mr Chung said the department's sensor network to detect faults in more than 3,000 kilometres of water pipelines in Hong Kong has helped to reduce the number of breakage incidents from almost 2,500 to less than 150 and he expects the number to drop to a two-digit figure this year.
Prof Guang-Hao Chen, Professor of the Department of Civil and Environmental Engineering at the Hong Kong University of Science and Technology, discussed his award-winning SANI process for energy-efficient and low carbon sewage treatment technology. The system makes use of processing seawater as flushwater into a sustainable water cycle and has been in development for the past 40 years. It has already been tested in Sha Tin.
Ir Prof Daniel Cheng, BBS, MH, JP, Managing Director of Dunwell Enviro-Tech (Holdings) Ltd, outlined his company's technological advances in building public toilets in remote areas without the need for a major pipeline or related infrastructure. Dunwell has developed an on-site filtration system that reuses sewage as flush water using membrane technology. "I was asked if I could do one and I did, then the government wanted three more and we did that. Now there are about 160 units all over Hong Kong," said Prof Cheng.
Jim Schlaman, Director of Water Sources, Black and Veatch in the USA, said his company is looking at "different futures" in terms of potential problems posed in the sourcing and management of water and sewage, from which they design technology to mitigate these futures. The futures could involve what would happen if an oil spill contaminated a supply of water, a broken pipeline that could not be fixed for up to one year and other potential scenarios.
The population of the earth is expected to grow to 12 billion by the end of the century from 7 billion now and the key was to make sure that "not a drop of the limited potable water available on the planet was wasted", he added.
Tags