European Desalination Society conference features advances in desal technologies
September 17, 2018
Posted by:

administrator

Category:

Conferences, Europe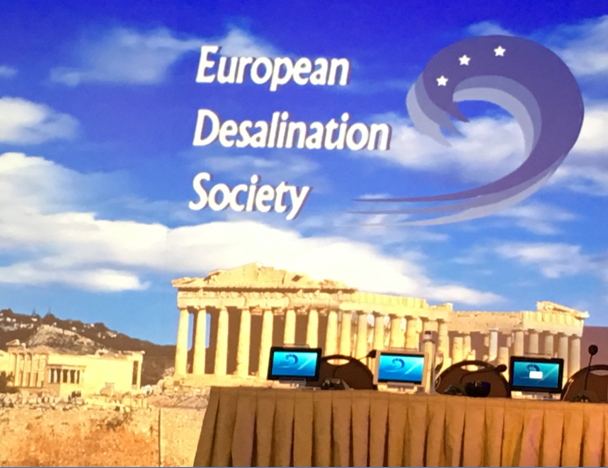 Lyn C.J.Wilson Head of Research, WaterBriefing Global, comments on the recent European Desalination Society conference.
More than 250 attendees from across the globe attended the European Desalination Society's conference which took place in Athens in Greece earlier this month.
The conference was opened by Nektario Santorinio, Vice Minister & Member of the Greek Parliament, together with Prof. George Papadakis, Agricultural University Athens, Miriam Balaban, Secretary General EDS, Maria Kennedy, President EDS and Zois Kologios,TEMAK.
A plethora of seminars covered science, research, innovation, industry and business over a three day period all of which were primarily concerned with desalination and new technologies for water. Members of EDS performed the music at the keynote EDS Gala Dinner, where the Secretary General, Miriam Balaban proved herself to be more than capable of executing the local Greek dances!
One of the major sponsors for the EDS conference was water treatment system company, TEMAK. Headquartered in Athens, the Greek company, founded in 1972, has a particular focus on Reverse Osmosis [RO] combined with Photovoltaic [PV] systems.
TEMAK launched The Strongili Island Project approximately four years ago, where they designed a totally autonomous solar-powered SWRO plant for the remote Greek islet. The system proved to be both eco-friendly and economical and an ideal solution for an isolated region.
Both EDS and TEMAK share the same philosophy of promoting environmentally responsible and efficient use of the technology associated with desalination and recycling water issues, together with  respecting the environment and working to help with a country's development.
The society has a specific focus on desalination and membrane technologies for water – key goals include promoting desalination, water recycling and water technology, a focus on the awareness of the true value of water and to encourage research in the subject.
EDS also cooperates and communicates with other international organisations, including national governments and private agencies in order to promote the technologies and European interests.
Click here for further information about the Society and other upcoming events.
Click here for details of membership of the Society
Tags