European Investment Bank provides €330m support for Afsluitdijk flood defence works in the Netherlands
June 4, 2018
Posted by:

administrator

Category:

Investment and Finance, Europe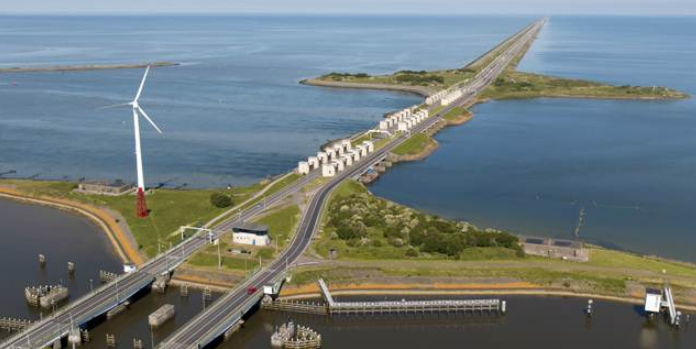 The European Investment Bank is providing €330 million in support of a major overhaul of crucial flood defence works for the rehabilitation and modernisation of the Dutch "Afsluitdijk" dam, running between the provinces of Noord-Holland and Friesland.
As one of the main flood defence infrastructure works in the Netherlands, the dam needs maintenance and modernisation, expected to be completed by 2022. The financing is guaranteed under the European Fund for Strategic Investments (EFSI), the central pillar of the Juncker Commission's Investment Plan for Europe.
The major causeway in the Netherlands was first completed in 1932 and closed off the saltwater Zuiderzee, turning it into a freshwater lake known today as IJsselmeer. Starting in 2018, the top layer of the Afsluitdijk will be re-enforced and an extra water barrier in front of current locks at both ends of the dam, at Kornwerderzand and Den Oever, will be installed to combat high water from the sea. Special pumps together with rehabilitation of the current scouring sluices and other special works will allow the re-establishment of fish migration between the sea and the interior lake via the creation of "fish passages."
"This iconic project is one of the main reasons the Dutch keep their feet dry" said EIB Vice-President Vazil Hudak. "In the era of climate change, rising sea levels are a very real concern for the Dutch, and the EU bank is happy to support the modernisation of this important defence infrastructure."
Karmenu Vella, European Commissioner for Environment, Maritime Affairs and Fisheries, said:
"The coming decades are likely to see a higher flood risk in Europe and potentially greater economic losses. I am happy to see that the EFSI loan guarantee will provide crucial flood defence for the Netherlands, but also make an important contribution to nature protection with the creation of passages enabling the re-establishment of fish migration, vital for the ecosystem."
On a technical level, the project will bring about an increase in the discharge capacity to remove water from the IJsselmeer into the sea by installing new pump systems. The project includes a small component of road improvement and maintenance works.
Tags