French national sea centre gets set to host High Seas International Conference
June 18, 2018
Posted by:

administrator

Category:

Conferences, Europe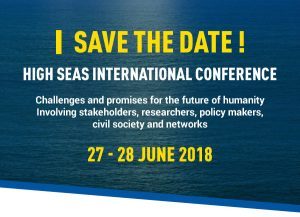 In preparation for discussions being held in the United Sates, NAUSICAA, the French National Sea Centre in Boulogne-sur-Mer, France is hosting the High Seas International Conference which will take place on 27-28 June next week.
In May NAUSICAA, opened a massive expansion based around a huge tank which will recreate the ecosystem of the High Seas.
Management of the high seas is one of the major issues of the 21st century, and the United Nations is currently discussing methods of governance.
International negotiations have already begun at the United Nations with regard to marine biodiversity protection, Marine Protected Areas and the issue of resource sharing.
The conference is a key opportunity to raise public awareness on the challenges of marine areas beyond national jurisdiction and the need to ensure that they are used in a sustainable and fair way to eliminate any potential sources of conflict which this may cause.
The conference is co-organised with The United Nations Educational, Scientific and Cultural Organization (UNESCO), the Food and Agriculture Organization of the United Nations (FAO), l'Agence Française pour la Biodiversité (AFB), the Global Ocean Forum, the World Ocean Network and the International Union for Conservation of Nature (IUCN) and NAUSICAA. The French Ministry for the Ecological and Inclusive Transition and the French Ministry for Europe and Foreign Affairs are also supporting the event.
Representing 50% of the Earth's surface, the possibilities of exploration, innovation and research for the High Seas are vast, ranging from deep-sea minerals to new drug compounds.
The various institutions present at the International High Seas Meetings will provide make their contribution to any recommendations forming part of the report which will be sent to the United Nations General Assembly in September.
High-level diplomats and speakers of the scientific community, the private sector, non-governmental organizations (NGOs), intergovernmental organizations (IGOs), and academia will set out insight about the High Seas governance, the Blue Society, and the legal challenges regarding the conservation and the sustainable management of marine resources.
Serge SEGURA, the French Ambassador for the Oceans, will set out France's position in these negotiations with particular emphasis being placed on public action, communication, increasing awareness and engagement and also bringing representatives of the media and information providers together.
Click here to read the conference programme
Click here to register
Tags