Global Water Summit 2019 - Disruptive Solutions
March 10, 2019
Posted by:

Elaine Coles

Category:

Conferences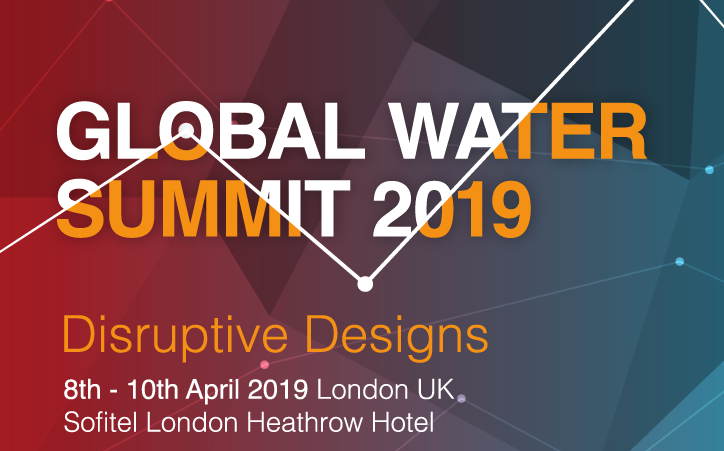 DISRUPTIVE DESIGNS AT THE GLOBAL WATER SUMMIT 2019
On April 8th – 10th 2019 the Global Water Summit returns to London to discuss Disruptive Designs.
Disruption creates enormous opportunities as well as obstacles, and it offers real solutions to previously intractable problems. While barriers to trade grab the headlines, huge new markets are opening up in an unprecedented fashion. In the global water sector the story is collaboration and consolidation.
What the leaders of the water sector need to make the most of this new volatility is a clear global view and the right contacts. How are current trends going to play out, and how will it affect supply chains, revenue streams and business relationships? Where are the new opportunities, and who are the people you need to talk to? Where is the "fake news"?
AGENDA
Breakout sessions within the strands focus on
Industry
Desal
Digital
Finance
Technologies
Wastewater
 Leading Utilities of the World
Sessions are broken up into discussion panels, presentations, or roundtables.
An outstanding lineup of speakers at the 3 day event includes:
Susanne Dorasil, Head of Division Water, Urban Development, Mobility, German Federal Ministry for Economic Cooperation and Development (BMZ)
Steve Robertson, CEO, Thames Water, UK
Bertrand Camus, Group Senior Executive Vice President, Africa, Middle East, India, Asia and Pacific, SUEZ
Gisela Kaiser, Executive Director: Utilities, City of Cape Town
Katrin Bruebach, Associate Director, 100 Resilient Cities
Laurent Auguste, Senior Executive Vice President – Development Innovation & Markets, Member of the Executive Committee, Veolia
Roger Harrabin, Environment Analyst, BBC
Cristophe Cros, Chairman of Water Technologies & Solutions, SUEZ
Heidi Mottram CBE, Chief Executive Officer, Northumbrian Water Group
Aude Giard, Chief Digital Officer, Veolia Water Technologies
Biju George, Executive Vice President, Operations and Engineering, DC Water
Booky Oren, CEO and Chairman, Booky Oren Global Water Technologies
Bruce Smith, Acting Managing Director, Emirates Water and Electricity Company

Chau Sai-wai, Deputy Director of Water Supplies, Hong Kong SAR Government
Chen Jyh-Woei, Director, Sewage System Office of CPAMI, Taiwan
Christ Thurston, Head of Sustainability, Watercare Services, New Zealand
David L. Johnson, Deputy General Manager of Engineering and Operations, Las Vegas Valley Water District and Southern Nevada Water Authority
Deane Dray, Managing Director, RBC Capital Markets
Dr. Chien-Hsin Lai, Director General, Water Resources Agency under the Ministry of Economic Affairs, Taiwan
H.E. Saeed Mohammed Al Tayer, MD and CEO, DEWA
Luis Francisco De Lope Alonso, Managing Director for International Business, Aqualia
Miguel Angel Sanz, President, International Desalination Association & Director of Strategic Development, Suez Treatment Infrastructure
Roelof Kruize, CEO, Waternet, The Netherlands
Terri Benson, Managing Director, South East Water, Australia
Thierry Noel, Managing Partner, Amane Advisors
Thomas Altmann, Vice President, Technology, ACWA Power, Saudi Arabia
Click here to visit the website for further information
Tags