Innovative simple solar-powered water system makes desalination ecofriendly
February 24, 2020
Posted by:

Lyn Wilson

Category:

Engineering, Environmental, Research Papers, Technology & Innovation, Water Treatment, Asia, North America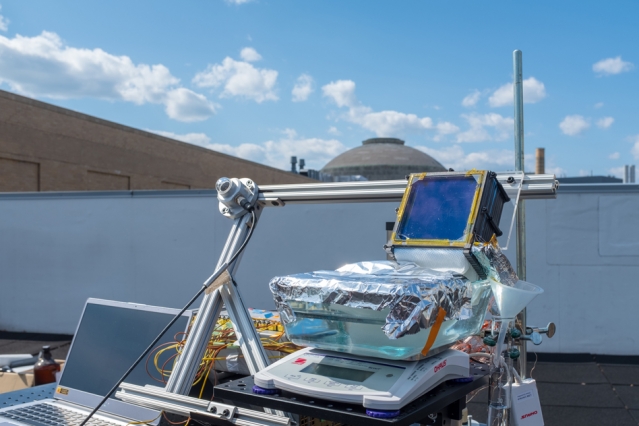 Researchers at Massachusetts Institute of Technology (MIT) and in China have developed a totally passive solar-powered desalination system which may be able to deliver an excess of 1.5 gallons of pure potable water per hour for every square meter of solar collecting area.
Theoretically, systems such as these could potentially serve off-grid arid coastal areas to provide an efficient and economical water source.
The key to the system's efficiency lies in the way it uses each of the multiple stages to desalinate the water. At each stage, heat released by the previous stage is harnessed instead of wasted. In this way, the team's demonstration device can achieve an overall efficiency of 385 percent in converting the energy of sunlight into the energy of water evaporation.
Evelyn Wang Professor of mechanical engineering at MIT stated:
"When you condense water, you release energy as heat. If you have more than one stage, you can take advantage of that heat."
Lawrence Berkeley professor of mechanical engineering at Berkeley, US said:
"One of the challenges in solar still-based desalination has been low efficiency due to the loss of significant energy in condensation. By efficiently harvesting the condensation energy, the overall solar to vapor efficiency is dramatically improved. … This increased efficiency will have an overall impact on reducing the cost of produced water."
The system was tested on an MIT building rooftop and delivered pure water that exceeded city drinking water standards, at a rate of 5.78 liters per square meter (about 1.52 gallons per 11 square feet) of solar collecting area.
Wang also commented that, that was more than two times as much as the record amount previously produced by any such passive solar-powered desalination system.
Also with more desalination stages and further optimization, such systems could reach overall efficiency levels as high as 700 or 800 percent.
One possible configuration would be floating panels on a body of saltwater such as an impoundment pond. These could constantly and passively deliver fresh water through pipes to the shore, as long as the sun shines each day.
Other systems could be designed to serve a single household, perhaps using a flat panel on a large shallow tank of seawater that is pumped or carried in. The team estimates that a system with a roughly 1-square-meter solar collecting area could meet the daily drinking water needs of one person.
The hope is that it could ultimately play a role in alleviating water scarcity in parts of the developing world where reliable electricity is scarce but seawater and sunlight are abundant.
Tags