IWE and Nijhuis Saur Industries lead Dutch paper mills in wastewater reuse pilot.
November 3, 2023
Posted by:

Sinead Sprigg

Category:

Europe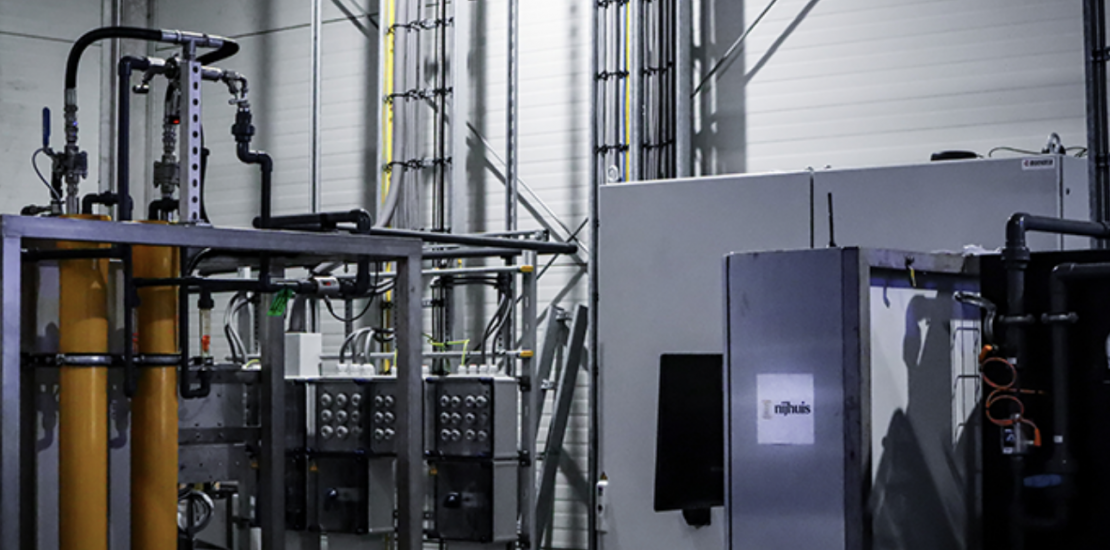 Pilot plant and Info board Pilot Scheme
Industriewater Eerbeek (IWE), a subsidiary of three Dutch paper mills dedicated to wastewater treatment, has initiated a pilot plant for wastewater reuse, leveraging solutions and technology provided by Nijhuis Saur Industries, NX Filtration, Pure Water Group, and REDstack. This project represents a significant step towards sustainability within the paper industry.
The pilot plant, designed to produce 10 m3/h of product water, employs advanced filtration and desalination technologies, including NX Filtration's nanofiltration, an activated carbon filter, and Electrodialysis Reversal (EDR) systems by Pure Water Group and REDstack. This combination ensures that the treated water meets the paper mills' process water requirements.
The pilot's objectives include demonstrating that the product water meets the quality standards of the paper mills, testing brine treatment techniques for reject- and brine streams, and generating insights for the design of a full-scale water plant based on pilot findings.
The pilot will continue to test various water treatment technologies until the end of 2023. Based on the results and financial feasibility, a choice will be made regarding the technology to be implemented by Nijhuis Saur Industries in early 2024. Construction of the full-scale plant is expected to commence in 2025, connecting multiple paper mills and creating one of the largest hubs for water reuse in the global paper industry.
William Suijkerbuijk, project director of the Waterrotonde, emphasised the industry's commitment to reducing groundwater extraction and environmental impact, stating, "The paper industry is very aware of the current groundwater consumption and the impact on our local environment. We now want to do everything necessary to reduce groundwater extraction. With this in mind, the Waterrotonde was born last year."
The Waterrotonde project aims to contribute to a sustainable ecosystem and prepare for upcoming regulations concerning discharges into surface water. IWE has a long history of purifying surplus process water from three paper mills in Eerbeek, the Netherlands, dating back to the 1960s.
William Suijkerbuijk, project leader at IWE, expressed the significance of this project for sustainability, stating, "This innovative water reuse project marks a significant step forward for sustainability in the paper industry. By harnessing the best available technology and effective collaboration, the paper factories and IWE are committed to reducing their environmental footprint and ensuring a prosperous and eco-friendly future."
Menno M. Holterman, CEO of Nijhuis Saur Industries, highlighted the collaboration's importance, saying, "The full cooperation of our technology partners and the involvement of some of the best water reuse experts in the world, we are proudly helping IWE to meet all their sustainability objectives. This pilot stands as a shining example of water reuse and showcases the integrated approach of Nijhuis Saur Industries to help our customers close the water loop and contribute to a more sustainable and resilient future."
Read the press release here.
Tags