MD of Dubai Electricity & Water Authority receives International Desalination Association Presidential award
November 11, 2019
Posted by:

Lyn Wilson

Category:

Conferences, Corporate, Environmental, Technology & Innovation, Water Treatment, Middle East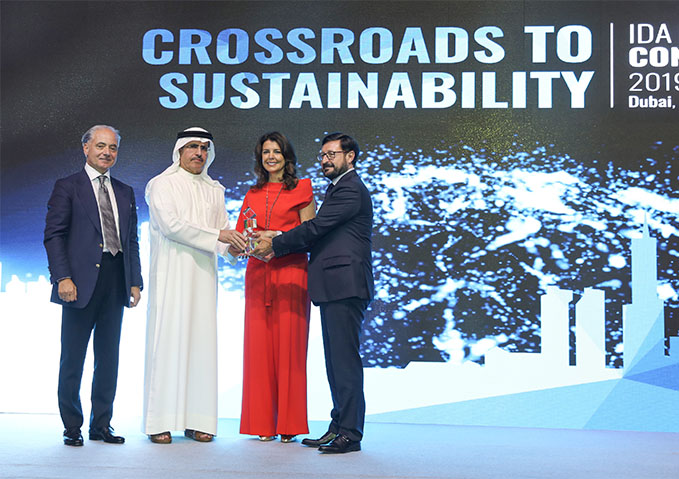 The International Desalination Association's (IDA) 2019 World Congress hosted by DEWA at the Dubai International Convention and Exhibition Centre concluded with the presentation of the  IDA Presidential Award  to HE Saeed Mohammed Al Tayer CEO of DEWA.
The theme of this year's congress, which was held under the patronage of HH Sheikh Hamdan bin Rashid Al Maktoum, Deputy Ruler of Dubai, was "Crossroads to Sustainability."
At this year's Congress Leading players in the water industry from both the public and private sectors met to discuss innovative technologies and the progress being made towards a sustainable future.
The IDA Presidential Award was presented to HE Saeed Mohammed Al Tayer CEO of DEWA, during the closing ceremony in recognition of "DEWA's valuable role and unlimited support to guarantee the success of the congress and in appreciation of Al Tayer's crucial role and endeavors in sustainable development."
HE Saeed Mohammed Al Tayer said that the Congress had provided delegates with the opportunity to find out more about global expertize in key sectors such as the desalination industry and the chance" to witness new projects delivered in the Congress in the areas of water desalination, and research related to the process of implementation, meet with international experts in the fields of electricity, water and clean energy, and present DEWA's vital initiatives in the field of desalination and clean energy and disseminate it to society in addition to achieving the goals of the International Desalination Association."
Key features of the 2019 World Congress hosted by IDA included seminars with discussion panels and a Technical Program investigating all facets of advanced water treatment technologies, practices and experiences.
Oral and written papers centered on a variety of themes, such as:
policy, finance and market challenges
energy-water-waste nexus
renewable-driven desalination
water reuse
The presentations were followed by the IDA Affiliate Majlis discussions .
Tags