Melbourne Water launches $200k (AUD) innovation competition to find solutions to tackle climate change
October 19, 2018
Posted by:

administrator

Category:

Technology & Innovation, Australasia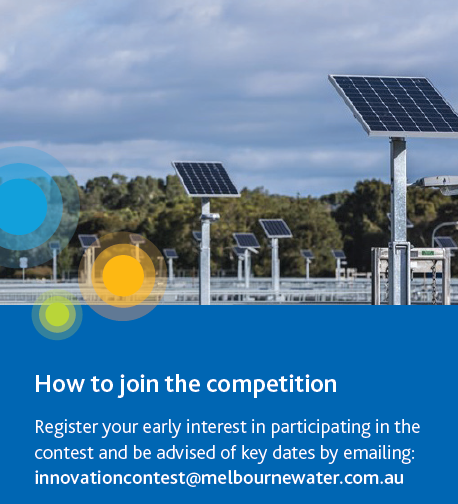 Melbourne Water in Victoria, Australia are launching a competition looking for innovative ways to reduce or eliminate Scope 1 greenhouse gas emissions (methane and nitrous oxide) from their wastewater treatment plants.
The competition provides the opportunity to submit ideas to Melbourne Water to reduce emissions and winners will share in a pool of up to $200,000(AUD), allowing them to take the next steps in bringing their ideas to life. The competition opens on 22 October 2018 – deadline for submissions is at 5pm on 3 December 2018 (AEDT).
Melbourne Water emits approximately 408,000 tCO2e /year (average Melbourne Water greenhouse gas emissions 2011 to 2016) of greenhouse gas emissions and accounts for 51% of the Victorian water sector total greenhouse gas emissions.
Greenhouse gas emissions are reported as Scope 1 emissions – emissions directly emitted by Melbourne Water's operations (mostly from wastewater treatment) and Scope 2 emissions – emissions emitted from Melbourne's use of grid electricity.
In 2016 the Victorian Government published its Climate Change Framework, which included a legislated commitment to achieving zero net carbon emissions across the state by 2050.
As a government-owned business and wishing to adopt a leadership position, Melbourne Water's Board has endorsed a pledge that commits to reaching zero net emissions by 2030 over two pledge periods.
Under the Victorian State Government's Take 2 Program, the utility has committed to reducing its greenhouse gas emissions by50% (below 204,380 tCO2e/year) by2024/25 and to achieve net zero emissions by 2030.
The water company already has a number of large projects underway to reduce Scope 2 emissions by becoming a self-supplier of electricity.
However, there are currently limited identified opportunities to materially reduce Scope 1 emissions. Rather than relying on emission offsets to achieve targets, a large program of work has now been started to further investigate direct emissions measurement and reduction.
As part of the programme Melbourne Water is seeking innovative, workable and affordable ideas that will result in lower greenhouse gas emissions while treating Melbourne's wastewater to its current high standard, both now and into the future.
The water company said:
" The Innovation Competition is about thinking creatively around how sewage is treated and what changes would result in reduced Scope 1 greenhouse gas emissions."
Melbourne Water is  encouraging ideas covering a number of areas, including:
Emissions measurement and modelling, for example, atmospheric measurement of emissions from the treatment or process modelling to identifying key influences on emissions
Optimisation of existing wastewater treatment processes, for example, process covers, emission capture and treatment or real-time control system for process optimisation to minimise emissions
Wastewater treatment processes of the future, for example, decoupling nitrogen removal from aerobic processes or algae treatment processes
Melbourne Water is awarding a Funding Pool of$200,000 AUD total. The two-stage competition opens on 22 October 2018 and ideas must be submitted before 5pm on 3 December 2018 (AEDT).
Shortlisted entrants will be announced in February 2019 and invited to submit a Detailed Solution. The final winners will be announced in mid-2019.
Click here for more information and details of how to apply.
Tags