Mose flood barrier successfully protects Venice from high water for first time
October 9, 2020
Posted by:

administrator

Category:

Engineering, Water Issues, Europe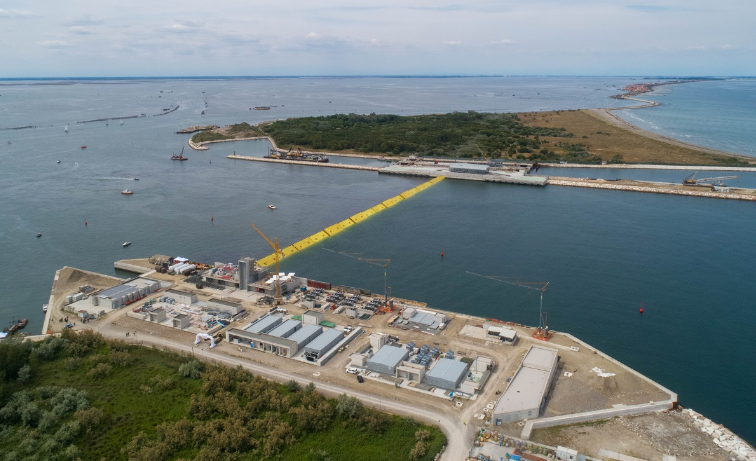 The Mose flood barrier built to protect Venice from flooding was brought into operation this week – the successful deployment ensured that the historic city was not flooded by the 40-45 cm of tide that would have occurred without the Mose.
The lift test of the gates was raised for the first time on 3rd October in unfavourable weather conditions during Storm Alex in response to a tide that would have flooded the city, coupled with an average sirocco wind of 19 knots.  With a forecasted tide of 1.30cm (4.27ft), City officials had been fearing the worst.
The mobile floating  barriers had already been raised both individually and at a dress rehearsal in the presence of Prime Minister Conte under favourable conditions – this was the first time that the mobile dams were operated in a situation of actual need.
It is now a priority to conclude ongoing work on the barrier – the Mose has not yet been completed – and for consideration to be given to the maintenance and management of the barrier.
The operations for the raising of the Mose gates began at 8.30 am in the morning – the first effects occurred after half an hour. At 10.10 the Mose was completely raised: while the tide continued to rise in the sea, in the lagoon the level growth stopped, settling at around 70 cm.
When the tide reached its maximum of 132 cm at sea, the difference in height between the sea and the lagoon, guaranteed by the barriers, was 62 cm.
Four mobile barriers were raised: at the Malamocco inlet, with 19 gates, at Chioggia, with 18, at the Lido with two rows of 21 and 20 gates, between San Nicolò and Treporti, for a total of 78 gates.
The lowering of the Mose began at 4.10 pm with a progressive reopening of the connection between the sea and the lagoon.
Tags