NASA warns catastrophic collapse of Ukraine's Kakhovka dam has led to disconnection of vital irrigation canals
June 22, 2023
Posted by:

Elaine Coles

Category:

Agriculture, Environmental, Global, Technology & Innovation, Tenders and Contracts, Europe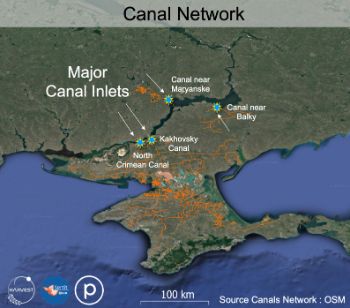 NASA Harvest says the catastrophic collapse of Ukraine's Kakhovka dam which supplies water to large areas of the Black Sea region's most productive agricultural lands has resulted in the disconnection of three of the four major canal inlets vital for farm irrigation.
NASA Harvest's satellite-based analysis shows that three of the four major canal inlets vital for farm irrigation are already disconnected, with the fourth dangerously close to joining the list in the coming days.
Canal-based irrigation is heavily relied upon in the summer, and summer rains are unlikely to be sufficient to maintain crop health and average yields in the previously-irrigated lands in this part of Ukraine.
Taras Vysotsky, First Deputy Minister of the Ministry of Agrarian Policy and Food of Ukraine commented:
"The Kakhovka Reservoir served as the "heart" of an extensive network of irrigation canals that sustained the viability of the region's agricultural production. The reservoir supplied water to more than 12,000 kilometers of canals, and irrigates more than 500 thousand hectares of croplands in Kherson, Zaporozhye and Dnepropetrovsk regions."
Prior to the war, Kherson Oblast accounted for over 4% of Ukraine's gross agricultural production, and the region also encompassed over 6% of wheat production, 8% of soybean and rapeseed production, approximately 13% of vegetable production, and one-third of all melon cultivation .
NASA Harvest said with the loss of the region's long-standing irrigation systems served by the reservoir comes threats to summer-planting including corn and sunflower crops and clean drinking water for the surrounding communities.
During times of conflict and uncertainty, near-real-time access to damage assessments are often only possible through remotely-sensed satellite imagery given the many challenges and dangers of conducting ground-based assessments.
Tags