New name MagPrex for nutrient recovery technology introduced by Centrisys/CNP
September 25, 2020
Posted by:

Lyn Wilson

Category:

Companies, Engineering, Technology & Innovation, Water Issues, North America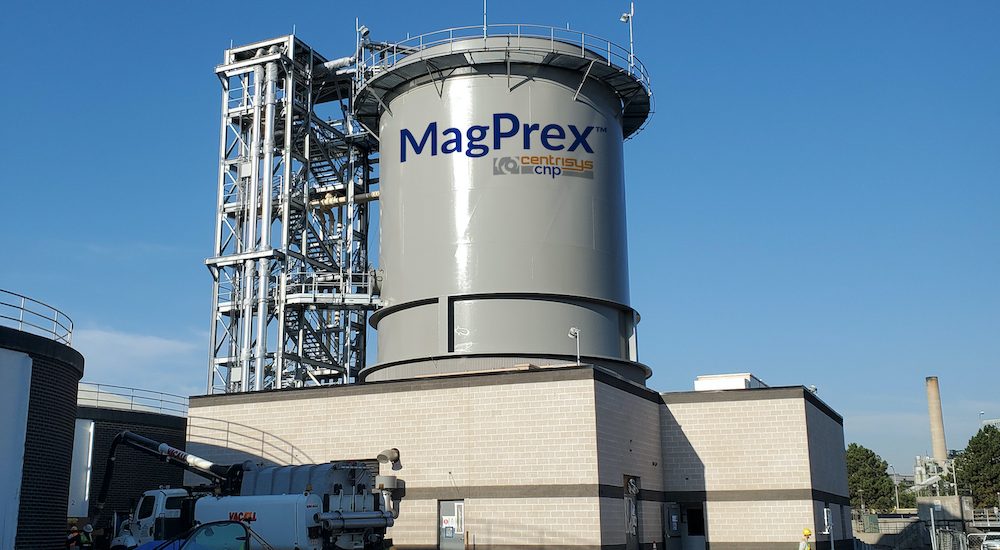 Centrisys/CNP Corporation, a leading US manufacturer of decanter centrifuges and advanced biosolids treatment technologies has introduced a new name for the nutrient recovery technology previously called AirPrex®.
The company has now parted from its Germany-based partner, CNP Cycles GmbH.
Centrisys/CNP's pioneering process for wastewater treatment plant biosolids optimization and phosphorus recovery is now called MagPrex™ in US markets.
AirPrex was first introduced to US markets in 2014 and since then Centrisys/CNP has made significant improvements to the nutrient recovery process. The company has made to date six installations, the largest of these located at Denver's Metro Wastewater Reclamation District Robert W. Hite Treatment Facility.
The company has also kept an acute focus on leading all engineering, manufacturing, and project management activities within its U.S. facilities.
Gerhard Forstner, President of CNP said:
"Our initial nutrient recovery technology introduction took place nearly 15 years ago, and over the years, we've made significant improvements to the system that provides superior results in both municipal and industrial applications."
He added:
"We've dissolved the partnership with our Germany-based partner to build on the strength of our U.S.-based initiatives and learnings. Changing our nutrient recovery technology's name to MagPrex signifies our commitment to continued innovation and ensures the best efficacy and the best value for all of our North American customers."
MagPrex forms struvite by stripping out CO2, elevating the pH and adding MgCl2 to augment Mg2+. The technology is installed between the anaerobic digester and before the dewatering equipment. The process converts the orthophosphate contained within the digestate into struvite crystals, which can then be harvested from the bottom of the reactor and utilized as a beneficial fertilizer.
MagPrex removes struvite while significantly improving treatment efficiency, including the following:
Reduced polymer consumption up to 30 percent
Reduced disposal costs up to 20 percent
Reduced phosphate recycle loads up to 90 percent
Reduced maintenance costs up to 50 percent
Increased revenue from fertilizer up to 20 percent
No sodium hydroxide required for pH change
Forstner commented:
"As a U.S.-based manufacturer and technology provider, we've addressed critical factors in wastewater reclamation plants and industrial applications by leveraging our extensive experience, unique process, and cost efficiencies."
The adverse effects and costs associated with struvite precipitation in equipment can be detrimental for treatment plant operators. Using the MagPrex system, operators can prevent crystallization in their biosolids train and reduce phosphate recycling by up to 90 percent.
Tags