New report calls for urgent change on climate change finance needed for resilient infrastructure
September 26, 2018
Posted by:

administrator

Category:

Global, Investment and Finance
A new report launched by the OECD, UN Environment and the World Bank Group is calling for urgently needed and radical transformations to drive systemic changes in finance, infrastructure and innovation to tackle climate change.
The organisations have joined forces under a new initiative – Financing Climate Futures: Rethinking Infrastructure. Yesterday saw the launch of a Synthesis Report and Key Messages at a High-level Discussion at the UN General Assembly yesterday identifying six transformative areas seen as key to aligning financial flows with climate and development objectives.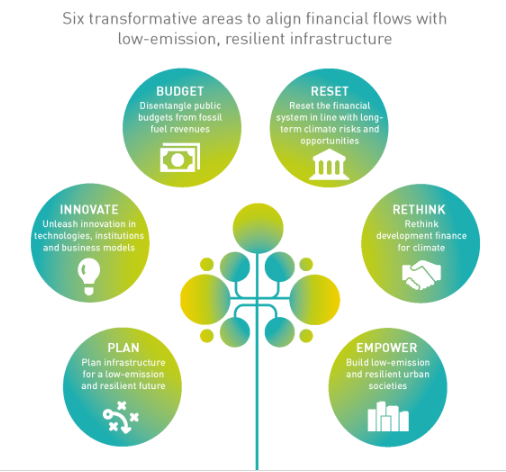 The synthesis says that aligning financial flows with low-emission, resilient infrastructure has become an urgent need to achieve climate objectives and avoid further emissions lock-in. However, while infrastructure has suffered from chronic under-investment for decades, the investment gap and the urgency of the climate challenge present a unique opportunity to enable sustainable growth and increase resilience worldwide.
"Mobilising private resources across the financial spectrum will be necessary for sustainable investment in infrastructure, from public finance institutions to banks, institutional investors, corporations and capital markets."
"Incentives that encourage rapid and radical transformation are also needed to drive systemic change, overcome institutional inertia, and break away from the vested interests that are often barriers to low-emission, resilient development."
Carbon entanglement is currently a major constraint
According to the report, "carbon entanglement" – the dependence of governments on revenues from the production of fossil fuels  – is currently a major political economy and macroeconomic constraint to a low-emission, resilient future transformation.
"There is a urgent need to rethink planning at all levels of governments to align current pipelines of infrastructure projects with long-term climate objectives and avoid carbon lock-in.
It also calls for resilience to made the norm in planning and for nature-based solutions and demand management tools to be mainstreamed in planning.
Short-termism and lack of transparency on climate-related risks assessment and reporting
The organisations are also warning that "an array of rules governing the financial system today are hindering the allocation of finance to low-emission, resilient infrastructure."
"For instance, incentive structures in the investment value chain system tend to encourage short-termism, and the lack of transparency on climate-related risks assessment and reporting leads to mispricing of climate-related risks and opportunities."
Kristalina Georgieva, Chief Executive Officer of the World Bank commented:
"We cannot ignore the new reality of powerful weather events that threaten jobs, homes, food security and other critical areas of our lives. The infrastructure that is built today must be ready to cope with tomorrow's changing climate. We need the right incentives and regulations to urgently accelerate funding to these projects."
Other measures proposed in the report include:
Encourage investment practices with a climate impact, through the development of common taxonomies, definitions and metrics, and by removing perverse incentives that favour short termism.
Incentivise the disclosure of climate-related financial risks and opportunities for investors and enhance scenario- based climate-risk management strategies.
Support financial supervisory authorities to better assess and manage climate-related risks that could threaten the financial stability of the system in the short and long term.
Rethink development finance for climate
The report singles out multilateral, bilateral and national development banks as having a critical role to play in infrastructure finance, particularly in developing countries. However, they need to play a much greater role in unlocking private capital and supporting policy reform.
It also calls for "climate markets" to be created and enabled to bring in new investors and sources of finance.
Concessional finance should also be used strategically to focus on projects and programs with the greatest climate impact, while viability gaps should be bridged for investment in sustainable technologies and in less mature markets.
Empower cities to build low-emission and resilient urban societies
The report says that cities are particularly vulnerable to climate risks and empowering local and city governments to plan and finance the right infrastructure is an essential part of achieving climate goals. It calls for climate-related and project finance capacity to be built at  city level, from developing long term, low-emission strategies to mainstreaming climate risk in infrastructure planning to efficiently finance and deliver complex infrastructure projects.
National and local fiscal regulations should also be aligned with investment needs, via adjustment of borrowing frameworks or improving the creditworthiness of cities.
Commenting on the report, Angel Gurría, Secretary-General of the OECD said:
"We need to urgently deliver on our climate and development goals, and to do so we need a systemic shift of trillions of dollars towards low-emission and resilient investment. OECD countries should lead by example. Continuing along our current path is simply not an option."
The final report will be launched at COP24 in Poland in December 2018.
Click here to read the Synthesis Report in full
WaterBriefing Global is media partner with the Financial Times upcoming FT Water Summit Opening the Floodgates: Unleashing Returns from Water Investments which takes place in London on 17th October 2018
Click here for further information about the Summit
Click here for details of how to register for the Summit
Tags