New report warns US water infrastructure funding gap could be well in excess of $1 trillion
May 23, 2018
Posted by:

administrator

Category:

Investment and Finance, North America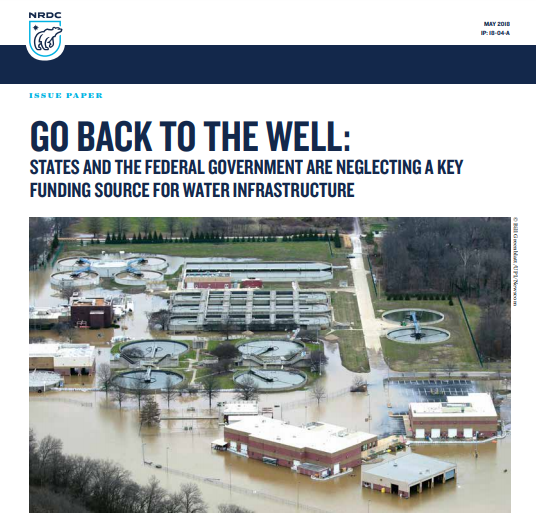 A new report published by the Natural Resources Defense Council (NRDC) is warning that States and federal government are neglecting a key funding source for US water infrastructure.
The organisation said the funding gap for United States water infrastructure could be well in excess of $1 trillion.
Many decades-old drinking water, wastewater, and stormwater systems do not meet existing environmental and public health standards, the NRDC says, and even more systems will need to be modernized to continue to meet the standards.
In addition, US water infrastructure was never designed to meet the impacts of climate change, including the increasing frequency of droughts and sea level rise.
The report Going Back to the Well says many existing decades-old US drinking water, wastewater and stormwater systems will need to be redesigned or relocated, with many treatment plants needing  to be modernized or replaced.
The U.S. Environmental Protection Agency (EPA) has estimated that the nation would need nearly $745 billion to simply meet and maintain existing health and environmental standards – made up of $472.6 billion for drinking water and $271 billion for sewage systems and stormwater.
The estimate does not include the potential costs of climate change and the number of water systems that, as a result, will need to be re-engineered—and in some cases relocated—to cope with sea level rise, floods, and droughts.  The NRDC says that the nation may need an additional $448 to $944 billion by 2050 to adequately address the issues.
Repairing damage to water infrastructure from the impacts has already cost the Federal Emergency Management Agency (FEMA) $7.4 billion between 1998 and 2014 just to repair water and sewer infrastructure damaged by floods and coastal storms. Other costs in recent years have included:
Hurricane Ivan 2004 – $300 million in Florida to relocate an aging sewage treatment plant In order to better protect from flooding and make less vulnerable to sea level rise
Hurricane Sandy 2012 – more than $5 billion in damage to wastewater infrastructure in New York and New Jersey
The NRDC report has also flagged up a study by Argonne National Laboratory and the University of California-Berkeley which found that three feet of sea level rise would put 162 wastewater treatment plants serving 10.4 million Americans at risk of flooding. Six feet of sea level rise would see the numbers increase to 31.6 million people at risk from 394 wastewater treatment plants.
THE NRDC now wants the federal and states governments to make greater use of the Clean Water State Revolving Fund (CWSRF) and Drinking Water State Revolving Fund (DWSRF) established by Congress to provide sustainable, long-term financial assistance to support communities' water infrastructure needs.
According to the NRDC, while the funds have provided $151.2 billion in financial assistance since their inception, their full potential remains untapped and increased federal financial support for State Revolving Funds (SRFs) is needed to help close the funding gap.
It also suggests that states need to make use of their ability to issue SRF-backed loan guarantees to communities, enabling communities to more easily and cheaply raise funds from private financial markets. The NRDC has is calling on federal and state governments to take the following actions:
Congress should triple appropriations for the Clean Water and Drinking Water State Revolving Funds from the current level of approximately $2 billion to $6 billion annually.

States should make loan guarantees available to more easily and cheaply finance drinking water, wastewater and stormwater projects.

States should leverage additional funding for their SRF programs through the issuance of bonds.

Congress should allow states that increase the funding of their SRFs to provide additional subsidized assistance in order to meet the needs of low-income communities and catalyze investments in projects that are currently underrepresented in SRF portfolios.
According to the NRDC, the recommendations could help shrink the US water infrastructure funding gap and help build the 21st century water infrastructure systems the entire nation needs.
Rob Moore, Director of NRDC's Water & Climate Team commented:
"Despite the looming funding gap, states aren't thinking about how to meet that future need and are essentially funding water infrastructure the way you or I would manage our checking account."
"Each year, they just add up how much EPA gives them, plus a small state match, and that's the amount of assistance they plan provide to help communities fix their drinking water and sewer systems. That's not going to cut it."
"Using more creative financial tools, like issuing bonds and using their SRFs to issue loan guarantees could greatly expand infrastructure funding. Those increased funds could determine which states are prepared to weather the coming storms."
Click here to download the report
Tags