New UBS Investor Watch study reveals stark differences in sustainable investing globally
September 24, 2018
Posted by:

administrator

Category:

Global, Investment and Finance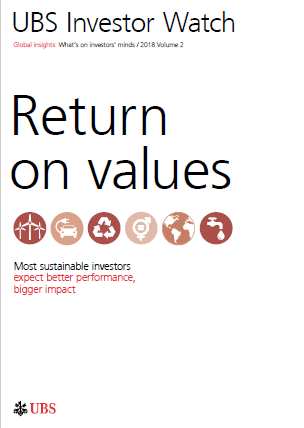 A new study has found that High Net Worth Investors in the China, Brazil and the UAE have highest rates of adoption in sustainable investing, while the US and UK have the lowest levels.
The findings are reported in the latest edition of  UBS Investor Watch report, "Return on values", the largest recurring global study of High Net Worth Investors (HNWIs) in the world.
The study reveals stark differences in the sustainable investing landscape. Emerging economies, such as China, Brazil and the U.A.E, indicate they have the highest rates of adoption of sustainable investing (60%, 53% and 53%), while investors in the U.S. and the U.K. lag far behind (12% and 20%).
However, despite lower adoption, sustainable investors in the U.S. have the highest average allocation, with 49% of their portfolio assets dedicated to sustainable investments, while those in the U.K. have a 38% average asset allocation.
The report says that investors in China, Brazil and the U.A.E. are the most likely to hold some sustainable investments (60%, 53% and 53%)
According to the study, healthy investors are motivated by sustainable values (65%) however globally, only a minority (39%) hold sustainable investments in their portfolios
However, confusion is continuing to hold investors back — 72% of investors find the terminology around sustainable investing perplexing, and lack of measurable impact is the biggest barrier to investing sustainably.
Globally, investors expect sustainable investing to grow from 39% participation to 48% over the next 5 years, and a majority (58%) expect it to become the norm in a decade – 82% of all investors surveyed also expect sustainable investments to match or outperform traditional investments over time.
Paula Polito, Global Client Strategy Officer, UBS Global Wealth Management commented:
"Investors see sustainable investing as the way of the future. Across all ages, wealth levels and regions, many believe sustainable investing will become a more mainstream approach over time."
"A majority of the investors surveyed believe that sustainable investments are wise investments and see no need to compromise their personal values for financial returns."
Sustainable investment gap
A significant majority (65%) of the world's wealthy investors think it very important to use their time and resources to help create a better planet. As a result, investors are actively aligning their spending decisions with their personal values (81%) and paying more for products from companies with sustainable practices (69%).
However, the choices in everyday life aren't always translating into investment decisions -globally, only a minority of investors (39%) hold sustainable investments in their portfolios.
Unknown impact and confusion hold investors back
The study finds that among non-adopters, 72% say quantifying impact is the biggest barrier. Nearly as many (68%) believe that sustainable investment options are not firmly established, noting short track records and a lack of well-known sustainable companies.
Confusion about terminology is compounding the issue. Seven in ten investors (72%) find the language of sustainable investing perplexing, and less than half (47%) are very familiar with the term itself. Similarly, investors make little distinction between the three major sustainable investment approaches: exclusion, integration and impact investing.
Advisors have an important role to play, the report says, with investors listing the advisory community as the biggest influencer in their investment decision making, followed by family and friends.
No trade-off between personal values and returns
The study shows that very few investors expect to sacrifice returns when investing sustainably. In fact, 82% of investors believe the returns from sustainable investments will match or surpass those from traditional investments. They view sustainable companies as more responsible, better managed and more forward thinking – thus, good investments.
"Education on the benefits, impact, and competitive returns is going to have to be accelerated to bring sustainable investing from niche to normal," said Mark Haefele, Chief Investment Officer at UBS Global Wealth Management. "Today, that is both the challenge and the opportunity."
Sustainable investing has strong momentum
Despite remaining deterrents, investors expect sustainable investing to grow significantly in popularity, from 39% adoption today to 48% over the next five years. In fact, 58% of investors expect sustainable investing to become the "new normal" in 10 years. Investors in the U.A.E., China and Italy are the most convinced sustainable investing will be mainstream, while only one third of investors in the U.S. and the U.K. agree.
Worldwide, younger investors and those with the greatest wealth are the leading adopters. Seven in ten young investors  expect sustainable investments to outperform traditional investments, compared to only one third of investors who are age 65 or over. Among the ultra-rich, the average allocation to sustainable investments is more than half of their portfolio (54%), compared to an average of 36%.
To encourage further adoption, UBS has committed to raise at least USD $5bn in impact investments over five years, in support of the UN Sustainable Development Goals.
At Davos 2018, UBS announced the first 100% sustainable cross-asset portfolios for private clients, targeting market rates of risk adjusted return, as well as positive social and environmental outcomes.
The research study was conducted among more than 5,300 millionaires with at least $1 million in investable assets (excluding property). The global sample was split across 10 markets: Brazil, China, Germany, Hong Kong, Italy, Singapore, Switzerland, UAE, the UK, and the US. The research was conducted between June 2018 and August 2018.
Click here to read the key conclusions from all 10 markets.
WaterBriefingGlobal is media partner with the Financial Times upcoming FT Water Summit Opening the Floodgates: Unleashing Returns from Water Investments which takes place in London on 17th October 2018
Click here for further information about the Summit
Click here for details of how to register for the Summit
Tags