South Africa Water minister warns SA water sector needs urgent attention to avoid imminent collapse
July 18, 2019
Posted by:

Elaine Coles

Category:

Investment and Finance, Africa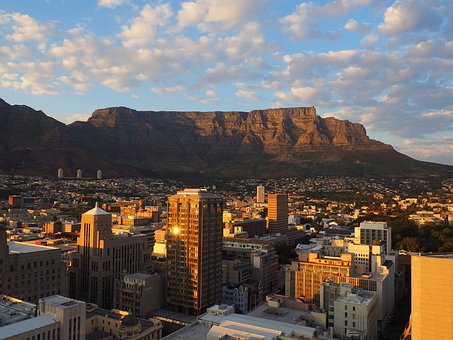 Lindiwe Sisulu, the Minister tasked by President Cyril Ramaphosa to clean up the newly merged Departments of Human Settlements and Water & Sanitation, is warning that  South Africa's water sector requires urgent attention and more resources if it is to avoid an imminent collapse.
Speaking in a debate on water and sanitation budget vote earlier this week, the Minister of Human Settlements, Water and Sanitation said the Department itself "requires urgent and intense attention".
She told members of the National Assembly:
"In 1994 an estimated 15.2 million people had no access to basic water supply and an estimated 20.5 million people lacked basic sanitation, and the total population then was around 40 million, of which over 27 million were black. With the population growth and migration we have not moved far from that."
"We have built fourteen new dams since at huge cost. We recognise that we are the 30th driest country in the world and we acknowledge the need to increase capacity speedily as we need to transform access to water. The irony of the infrastructure we have so heavily invested in, in the dams is that none of these dams are accessible to the local population that lives around the dam."
According to the Minister, the biggest problem is working through a very complex structure where municipalities are the direct line of access to water and "they are struggling with this huge responsibility."
Currently 2.5% of South Africa's water resources is directed to mining, 3% to industrial use, 2% goes towards power generation and 61% is taken up by agriculture – leaving 27% for consumption for a population of over 60 million.    Lindiwe Sisulu pointed out that while the primary objective of the National Water Act is to transform the system and democratise the water sector, 95% of the licensed water volume is still in the hands of white commercial farmers leaving 5% currently allocated to emerging black farmers.  "We have to transform the sector to do away with the glaring inequalities" she said.
She went on to explain that against this "totally untransformed background we have our own gross failings as the current compulsory licensing regime demonstrates." Agricultural consumption is largely unmetered, and there are concerns about unauthorised abstraction and water wastage in the sector. In addition, agricultural users pay a much lower tariff than other users of untreated water and it is relatively cheap.
Key problems she flagged up the Government needs to confront and deal with as a matter of urgency include:
ageing infrastructure, without the necessary skills and support at the right time or the right place to manage problems on time which has resulted in a great deal of reliance on consultants
a misaligned three tier system for the provision of water, that does not lend itself to easy coordination. Most of the skills required at municipal level are not available, resulting in reliance on "over-priced consultants"; water management is poor.
The Constitutional responsibility for water supply and sanitation lies with 144 municipalities that are Water Services Authorities (WSAs). Of these WSAs at least 33% are regarded as dysfunctional; more than 50% have no, or very limited technical staff.
Mines, a major consumer of water, are non-compliant with their water license conditions;
Even where there is solid working infrastructure, there is an increase in vandalism and theft;
Non-payment for services is a perennial problem;
Poor project management which results in delays
Sanitation  – without proper management of sanitation the country faces a dire situation of effluent flowing into its rivers. Ageing and inadequate drainage systems lead to effluent flowing onto the streets
Lindiwe Sisulu told the Assembly:
"And of course the biggest problem: huge financial mismanagement, with the result that so many of our top officials at national and municipal levels are under investigation."
"It is not a good story, it is not a situation anyone should be proud of and it is not a situation we should tolerate."
I intend to detail for you what steps will be taken to turn this around in the shortest possible time, within the resources made available to us in this financial year.
Commenting on current financial resources, the Minister said  South Africa invests R42 billion per year into water infrastructure, and R13 billion into sanitation. However, the estimated capital investment requirement is R90 billion per year over the next ten years.
She also pointed out that South Africa has more dams and water licences in private hands than those owned by the State and authorities, meaning the supply and management of the nation's water resource has many constituents.
This meant that a knowledgeable, always informed and transparently constituted regulator is required to manage both state and privately owned water resources and to optimise in a fair and judicious manner the nation's water resource as a strategic asset and in the interest of all who live in South Africa.
"Therefore, the Department will deliberate intensely about the establishment of a Water Regulator supported by the appropriate legislation," she added.
Immediate actions include urgently addressing finances, digitisation and fast track for two major dam projects
Remedial steps the Government has committed to include:
The need to urgently address finances. The Department has been allocated a total budget of R16.440 billion in the 2019/20 financial year, of which conditional grants to local government are R3.669 billion and R2.066 billion for the Water Services Infrastructure Grant and the Regional Bulk Infrastructure Grant respectively. The Department is engaging National Treasury on the significant budget shortfalls of more than R2 billion affecting key projects such as the Emfuleni intervention project and Mzimvubu Water Project. I will be having discussions with the Minister of Finance on the possibility of funding or partnering with the private sector to revive the Mzimvubu dam, currently not catered for in our budget and also the possibility of a new dam.
Tendering process  which has been identified as a major problem and will be reviewed by the  National Treasury. The Department will investigate what has gone wrong in order to create a system that is leak resistant.
Construction unit  to be revived and together with members of the construction industry, establish maintenance task teams and attend to much needed maintenance intervention, especially in the water treatment and recycling stock. This will provide for a highly skilled stand-by capacity to deal with all eventualities.
Digitisation The Department will embark on an intensive campaign to digitise all its stock holdings, data and documentation. For Water and Sanitation it means all dams, reticulation networks, treatment and recycling plants and water licences. This will also mean that the Department will be ready with their database to join the designs of the Fourth Industrial Revolution and the use of Blockchain technology.
Municipalities Lack of infrastructure available to municipalities with the responsibility of channelling water supply. The high levels of debt that municipalities have impacts on the value chain and on the overall financial sustainability of the sector. The 9 Water Boards and the Department combined are currently owed R14 billion by the Municipalities for raw water and other water services. We have to find a way to recover this.
The Minister is calling for the Departments of Finance, Human Settlements, Water and Sanitation must put measures in place to top slice the municipal grants to service the debt owed to the Department and its entities before the grants are paid to Municipalities. This will ensure the sustainable provision of water supply for both bulk and reticulation.
​Conservation of water  – new regulations to be introduced
River, dams and sewerage inspectors to be appointed from 1 August 2019.
Fast track for two major dam projects to be executed without further delay:
Umzimvubu – the Mandela promise. The Department will seek a strategic partner to invest – it has already run up a huge deficit
Vioolsdrift with ally and neighbour Namibia.
Current investigations ​ ​– all will be fast-tracked and concluded. Department will appoint an investigative partner approved by National Treasury to deal with all outstanding investigations, fast-track all the drawn out cases, study the reports of the Auditor-General and ensure there will be follow-through consequences. If necessary forensic investigators will be used to help identify potential loopholes in systems.
​ She concluded by thanking all the dedicated staff of the Department, the Water Boards and other entities, as well as partners in the private sector, commenting:
"I would like to say to you that it will not be business as usual, so if you find yourself outside of your comfort zone, it is only because we are trying to rescue this Department from a very precarious situation. While some of us have time to wonder and ponder, others have to solve the problems."
Tags