WaterBriefingGlobal at WEFTEC 2018 – a tale of parties, membranes, diamonds, coffee and zeolites
December 6, 2018
Posted by:

administrator

Category:

Conferences, Global
WaterbriefingGlobal correspondent Alison Ireland sums up the week at WEFTEC 2018, the world's largest annual water quality event, which ran from 29th September to 3rd October at the Morial Convention Centre in New Orleans in a tale of parties, membranes, diamonds and coffee, featuring zeolites.
Alison Ireland: The Water Environment Federation's 91st Annual Technical Exhibition and Conference (WEFTEC), provides the latest developments, technologies and services for the water sector. More than 20,000 water professionals and 1,000 water companies attended to learn, connect and work towards a better future for water. WEFTEC hosted more than 2000 international visitors, from over 80 countries, more than 300 trade delegates from 19 countries and 10 country pavilions and exhibitors from all over the world.
Eileen O'Neill, Executive Director of WEF, said: '
We are thrilled to be in New Orleans as it honours the past, present and future with its Tricentennial anniversary,' continuing that 'the resilience and fortitude of this city and its people – and their unique relationship with water – is something that we can all learn from, aspire to, and, in the full spirit of New Orleans, celebrate.'
Conference highlights included 1st-ever data on how US water utilities recover resources 
Alongside the exhibition, the highlights of the conference included an engaging opening session during which WEF unveiled the first-ever data on how much North American water utilities are recovering resources, and launched the ReNEW Water Project, NEW standing for nutrients, energy and water. The data showed significant progress in using biosolids and generating energy, but large growth opportunities still existing in water reuse and nutrient capture.
Data was taken from national and state databases, publications and a utility survey. Building on baseline established by this first foray; data will subsequently be collected biannually and the scope expanded to Canada. The project aims to accelerate resource recovery, its worthwhile ambition is to assist all wastewater treatment plants in becoming biorefineries, to the overall benefit of the environment. More details can be found here: www.wef.org/ReNEW
Also in the opening session, 'The Water's Worth It' campaign was relaunched with a new, modern look. Originally launched in New Orleans in 2012, the campaign aims to raise awareness about the importance of water and the work of water professionals. The new website, www.watersworthit.org, includes a tool-kit of outreach resources.
The inspirational Kevin Brown, also spoke in the opening session. Author of The Hero Effect, he is keenly lauded on Amazon: 'It was the kick in the pants I was looking for. When I have friends that feel like it what they do doesn't matter, I point them to this book.' His job at WEFTEC was to inspire water professionals to recognise and embrace their identities as everyday heroes who show up and give their best for water when it matters most.
Annual Scientists Lecture on circular economy
The annual Scientists Lecture was this year given on Monday 1st October by Stantec's Dr Art Umble, on the highly-cogent subject of circular economy. For those interested in this topic the next major upcoming international event is WEX Global 2019 in Portugal.
Also on this day, 22 agencies were recognised, and four given awards at the Stormwater Congress Luncheon, the four being Lexington-Fayette Urban County Government; Louisville Metropolitan Sewer District; City of Alexandria, Virginia; City of Auburn, Alabama. The awards were given by the WEF National Municipal Stormwater and Green Infrastructure Awards Program, and a full list of recognised agencies can be seen below.
WEFTEC's second day also had its share of globally-relevant events. The Utility Leaders Morning on Tuesday morning saw water leaders from around the world discussing issues, while thirty-two water utilities were recognised for transformational work in community engagement, watershed stewardship and recovery of resources such as water, energy and nutrients as part of Utility of the Future Today, an initiative launched in 2016 by the National Association of Clean Water Agencies (NACWA), WEF, the Water Research Foundation (WRF), and the WateReuse Association with input from the EPA.
See below for a list of utilities being recognised for the first time. Utilities recognised for a second year, in a new performance area were Charlotte Water (NC), Clean Water Services (Hillsboro, OR), Columbus Water Works (GA) and St Cloud Public Utilities (MN). The two utilities recognised for a third year running, and in a new area of performance were City of Fayetteville (AR) and DC Water.
More information on Utilities of the Future Today can be found at: http://www.nacwa.org/resources/utility-of-the-future
An ever-popular part of the programme for participants and spectators alike, the Operations Challenge culminated on the Tuesday, amazingly for the fourth decade running. This year TRA CReWSers from the Water Environment Association of Texas took Division 1 and the Pooseidens also of the Water Environment Association of Texas won Division 2.
In addition to the usual five events – Laboratory, Process Control, Safety, Collection Systems and KSB Maintenance. New for 2018 was the introduction of running water into the latter – teams had to respond to a trouble alarm sent to the OCC by the pump, involving troubleshooting the electrical control panel, maintaining the pump and wet well and ultimately restoring the pump station to normal operating condition.
Noteworthy second annual Innovators Forum on Intelligent Water 
Of the surrounding events, one of the most noteworthy from your correspondent's viewpoint was the second annual Innovators Forum organised by not-for-profit newcomers, Current. Themed on The Intelligent Water Transformation, the event took place in the adjacent Hilton and consisted of two lively panel discussions, themed Roundtables, and networking drinks.
At any huge event such as WEFTEC, happenings can seem fragmented, and this afternoon seemed to encapsulate the event overall: what is innovation to water, and how should it be adopted? If innovation were the fabled elephant, everyone seems to be touching and identifying a different part of it – but the underlying reality is the investment shortfall for pre-profit innovative firms. Combined with the difficulty of obtaining real-site pilots, this creates a challenge for the market.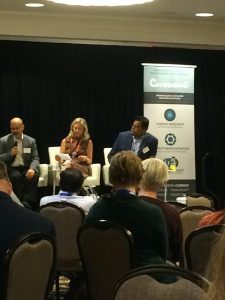 Panels consisting of Will Sarni (Water Foundry), Al Cho (Xylem), Snehal Desai (Evoqua Water Technologies), Ralph Exton (SUEZ), Ari Raivetz (Organica Water), Cindy Wallis-Lage (Black & Veatch), Terry Mah (The Malabar Group, former CEO of Veolia NA), Debra Coy (XPV Water Partners), Todd Fein (Green Diamond) and Biju George (DC Water) discussed their own experiences and desires in relation to innovation, concluding that superior asset management and the ability to predict maintenance, and moving towards calculating the real value of nature and specifically to industrial companies are key, along with aggregating all the data-sets available.
Roundtables were lively and honest in tone, and hosted by the following: Gigi Karmous-Edwards (Customer Experience & Management), Emagin (Artificial Intelligence), AqMB and Innovyze (Asset Management Software), WaterChain (Blockchain & Crypto), Cyber Security (WIN-911), FREDsense and Microbe Detectives (DNA Science & Technology), Mueller Water Products (Leak Detection), IOSight and Optimatics (Optimization & Analytics), AMS and Rockwell Automation (Remote Sensing), and Accredent and GrayMatter (Smart Devices).
Highlights from the Exhibition included membranes
There was yet more product and development activity on the crowded membrane scene. Polycera, Inc. were launching eight new membrane products, expanding its family of Titan and Hydro ultrafiltration products, most notably its new nanofiltration element, Titan 28 HF. Initially designed for chemical-free colour and dye removal, Titan NF can also be used for removal of high-strength organic contaminants.
Simon Marshall, President and CEO confirmed that the company is seeking trial sites at the show:
'We look forward to establishing Beta field trial sites with the connections we make at WEFTEC'.
The 'Polycera difference' is the Nobel Prize-winning chemistry which enables membranes to be made with organic metal which produces a membrane more robust, packing high permeability, rejection, fouling tolerance and a higher operating temperature range. We will watch progress with interest, especially in the offshore market where it is particularly advantaged by this unique hydrophilic metal, namely the Titan Offshore product which allows for the removal of oil and grease with typical rejection >99%.
IntelliFlux, a pioneer in artificial intelligence-based membrane control systems, unveiled its next generation AI-based controller at the show. References so far include a trial on Coway EnTech's Wastewater Reuse Treatment Facility in Incheon, South Korea during which IntelliFlux autonomously controlled and optimised the membrane system resulting in 8% less frequent cleaning and down-time, 34% less energy consumption, and 2.1% increased system net yield (94% to 96.1%). Its ongoing market success will be dependent on the number of established membrane plants facing higher-than-usual opex.
Diamond electrodes and advanced oxidation
Element Six, part of the De Beers Group of Companies, is building the currently-small water market application by working with wastewater companies to provide advanced oxidation using solely electricity to treat high concentrations of dissolved toxic and biodegradable organics, ammonia, pathogens, and some inorganic in a single step.
Tim Mollart, Principal Scientist, based out of the Harwell (UK) office explained:
'The solid industrial diamond electrode doesn't dissolve the electrode giving a long field life, some systems having been in the field for 8-9 years.'
Currently E6 partner with Enviroleash using Diamox to recover precious metals, and Siemens are also a current partner. They would like to build new partnerships with companies providing services, solutions, and technology for solution-providers.
Voltea furthers patented Membrane Capacitive Deionisation (CapDI) process
After being named 'Breakthrough Water Technology Company of the Year' at the Global Water Awards in Paris in April, Voltea has furthered its patented Membrane Capacitive Deionisation (CapDI) process in launching DiEntry a new residential water treatment system intended to compete with in-house water softeners, while DiUse has seen strong growth picking up a contract with a major coffee shop chain.
Lower energy use than RO, and water quality 'tuning' are the attractions, the latter serving to guarantee the similarity of 'coffee experience' all over the world. Originally a Unilever company and backed by Rabobank, Voltea is currently looking for brand ambassadors and mass distributors. For any interested coffee vendors, CSO, Dewitt Dees will be at the European Coffee Symposium 2018 in Milan at the end of November!
Zeolites and onsite nitrogen removal technology
One paper which stood out to WBG was the one on Anaerobic Ion Exchange (AN-IX) Process for Nitrogen Removal from Onsite Wastewater, in the Manufacturer's Innovation Technology Forum. The US market for onsite nitrogen removal technology has has been estimated at $38 billion. Suffolk County (NY) alone has more than 300,000 existing onsite systems releasing nitrogen into the environment, and existing solutions are not desirable.
AN-IX has been developed by Daniel Smith and Nathaniel Smith (AET Tech LLC), Thomas Happel (Suntree Technologies Inc) and Daniel Eyde (St Cloud Mining Co.). The system doesn't require power, needs little maintenance and is compact, as well as being effective at low temperatures.
Rigorous field tests in Florida and Maryland , including cold temperature operation, yielded total nitrogen removal in excess of 95%. The next stage is full-scale deployment on Long Island (NY) so watch this space for further news over 12 months of testing!
Annamox, InDense and Bioremediation
The commercial end of DC Water, World Water Works seems to be one of the successful models for harnessing real innovation and getting it into water utilities. Specialising in advanced water treatment solutions, Annamox now has 7 systems in N. American and 65 worldwide, while the 2016-launched inDENSE is building with four systems planned over coming months for St Petersburg (FL), UOSA ((VA), Ephrata (PA) and a trial in Denver Metro.
Chandler Johnson, CTO, mentioned a building trend for collaboration with utilities such as Metro Denver and City of Chicago, and commented that the biggest change in recent times has been speed of adoption as in the past it could take as long as 7 years to get the first municipal project up and running.
Interesting industry newcomer Drylet, whose flagship product is a success story for wastewater bioremediation, has launched two new products: firstly, bringing in the Hydromantis data modelling system which facilitates a productive data relationship with any new customer to identify pain points.
COO Malcolm Fabiyi was President of Hydromantis prior to joining Drylet in December 17. They have also launched a product for Anaerobic Digestion & Biogas Production which simply carries a specific consortium of microbes best suited to accelerate biosolids degradation in an anaerobic environment such as a biodigester. When the application is biogas production (methane), that consortium is tailored a little differently to boost methane production with results up to +32%.
Back to Innovation – The Water Council & PureBlue
Innovation is everywhere, but how will it be used? While the central Innovation Hub seemed well attended – everyone wants to meet the new blood in the show – over in Wisconsin (metaphorically speaking) The Water Council sponsored by Wisconsin Economic Development Council, has a current deadline for new applications to its BREW Accelerator (stands for Business. Research. Entrepreneurship. In Water) which closes November 30th for a programme start in March 2019.
Fyi, the 2017 winner was Pulsed Burst Systems LLC, whose MegaBubble™ technology is a low-cost, energy-efficient, low-maintenance solution for wastewater treatment.
See here for more details: https://thewatercouncil.com/programs/brew-accelerator/
PureBlue, based out of Seattle, is an innovation hub we didn't manage to visit, but water entrepreneurs can apply to their Aqualyst programme which begins in August 2019 and involves coaching and exhibiting at next year's WEFTEC. The deadline was not clear on the website but interested parties can look here: www.pureblue.org
…and finally, parties
The usual round of hospitality included the following parties of which your correspondent was aware, and I'm sure others of which she was not: Andritz (Paddlewheeler Creole Queen), ABB (House of Blues), Stantec (Apres Lounge), Evoqua (World War II Museum), Pentair (WWII), Brown & Caldwell (Court of Two Sisters), Hazen & Sawyer (WWII), Greeley & Hansen (The Jaxson), Black & Veatch (Generations Hall), Whipps (W.I.N.O.), Jacobs (Old Ursuline Convent Museum) and XPV Water Partners at the beautiful Aquarium.
WaterBriefingGlobal is already looking forward to the next WEFTEC!
Tags