WETEX & Dubai Solar Show 2018 to feature latest technologies and disruptive innovations
August 20, 2018
Posted by:

administrator

Category:

Conferences, Asia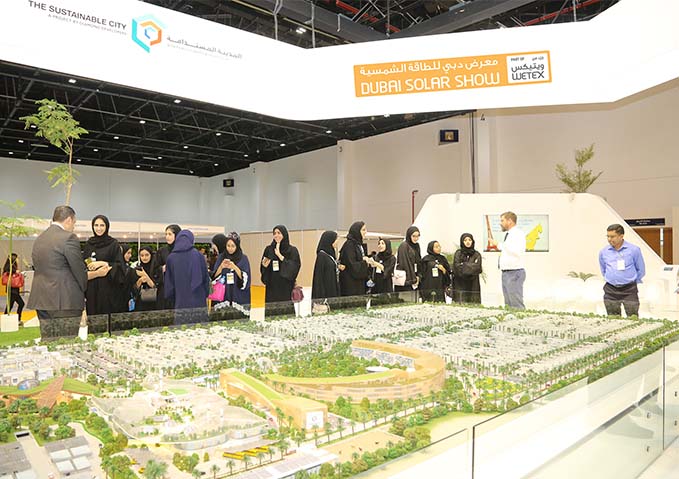 The upcoming WETEX & Dubai Solar Show 2018 will highlight the latest developments, investments and technologies in energy, water, solar, environment and green development sectors.
The Dubai Electricity and Water Authority (DEWA) is organising the 20th Water, Energy, Technology, and Environment Exhibition (WETEX) which will be held from 23-25 October 2017 at the Dubai International Convention and Exhibition Centre.
For the 5th consecutive year, DEWA is organising WETEX under the umbrella of Green Week.
The 20th WETEX and the 3rd Dubai Solar Show will provide an opportunity to review the latest innovative solutions in energy, water, and the environment. Many of the technologies will be unveiled for the first time, especially in renewable energy, water, sustainability and rationalisation.
The two exhibitions will act as an integrated platform for companies and organisations working in these key sectors to promote their products, services and innovative technologies.
Participants will be able meet decision-makers, investors, buyers and interested parties from around the world to make deals, build partnerships, review the latest technologies in these sectors, learn about current and future projects and market needs, and explore opportunities to take part in solar-energy projects and programmes in the region.
Event will build on notable success of 19th WETEX and 2nd Dubai Solar Show
This year's event will build on the remarkable success of the 19th WETEX and the 2nd Dubai Solar Show in October 2017 which saw large participation from exhibitors, visitors, participants and government organisations. They attracted 2,000 exhibitors, around 31,000 visitors from 50 countries, and 75 sponsors.
The exhibition covered 73,000 square metres. The 2nd Dubai Solar Show attracted 108 exhibitors, from 11 countries, and 10 sponsors.
The two exhibitions were an important global platform to review the latest technologies related to the water, energy, environment, and resource management.
Over three days, around 400 business meetings were conducted as part of the free B2B service to facilitate meetings between sponsors, exhibitors, and trade visitors, so exhibitors could expand and promote their businesses.
New technologies and promising opportunities at WETEX 2018
HE Saeed Mohammed Al Tayer, MD & CEO of DEWA, Founder and Chairman of WETEX commented:
"DEWA has invited a wider variety of manufacturers and service providers from many sub-sectors to the exhibition. The move will attract a larger display of new products and technologies to serve wider audience of trade visitors at the exhibition.
"WETEX serves as an important meeting point for manufacturers, service providers, decision-makers, and trade visitors from the UAE and the region. It helps investors to review the latest technologies available in these areas.
"WETEX has become an annual event to launch new technologies, and a destination for decision-makers, investors, and trade visitors from around the world. Over 19 years, WETEX has witnessed the launch of new innovative technologies, many of which made their regional debut through its platform."
"Major deals and partnerships were signed and major projects announced that have changed the regional and global energy sector. This year, WETEX will continue to present the latest technologies in various energy sectors, while the Dubai Solar Show will cater to increasing demand for solar power."
Latest energy, water, and environmental technologies
Visitors to WETEX 2018 will be able to view the latest technologies in water treatment, desalination plants, pipes of all kinds, coolers and heaters, and related products and solutions. It will also display tools, equipment and accessories for digging technologies, pumps, valves, and tools to ease pressure and others.
WETEX will show the latest advances in irrigation systems, agriculture and horticulture equipment, and water extraction equipment. With a focus on water conservation, WETEX will showcase products for detecting and treating water leakages, reservoir lining, and various materials used in the water sector and water transportation.
Latest solar-energy technologies
With the rapid development in the solar energy sector, and the success of the previous Dubai Solar Show, the 3rd Dubai Solar Show this year has been expanded to over 14,000 square metres and is attracting the biggest companies and organisations in solar power from around the world.
The exhibition will provide an important platform for government and private sectors to make deals and build partnerships, access the latest technologies in the solar sector, and learn about current and future projects in the region as well as market needs and opportunities to participate in leading solar projects and programmes.
Third Dubai Solar Show highlights UAE's leadership in the field
HE Saeed Mohammed Al Tayer, DEWA's MD & CEO continued:
"Organising the third Dubai Solar Show highlights the UAE's leadership in this field, as well as its leading position in increasing reliance on solar energy, and the transformation to a green economy, to embrace the concept of sustainability in all aspects: environmental, social and economic."
DEWA has its own stand at the exhibition, where the organisation will review its efforts in research, development and innovation in the field of solar energy, in addition to its major solar projects, notably the Mohammed bin Rashid Al Maktoum Solar Park, the largest single-site solar park in the world that uses the IPP model. It will produce 1,000 MW by 2020 and 5,000 MW by 2030, with a total investment of AED 50 billion.
Exhibitors and attendees will be able to explore current and future solar projects in the region, the latest market trends, and the legislation, laws and regulations set by the competent authorities.
The Dubai Solar Show offers exclusive benefits to participants, such as free registration for companies and products at DEWA, letters of recommendation for products participating in the show, and exclusive field visits to the Mohammed bin Rashid Al Maktoum Solar Park.
The Emirate is working to transform Dubai into an international hub for clean energy and green economy, by providing 7% of Dubai's total power output from clean resources by 2020, 25% by 2030, and 75% by 2050.
When completed, the project will achieve a reduction of approximately 6.5 million tonnes of carbon emissions annually. Dubai is seeking to increase its reliance on solar energy, through the Shams Dubai initiative, to encourage building owners to install PV panels on their rooftops to generate electricity from solar power. 1132 buildings with a total capacity of 49.1MW have already been installed. The number of panels is expected to double in the future to eventually cover all buildings in the Emirate by 2030.
Click here for further information about WETEX 2018
Click here for further information about Dubai Solar Show
WaterBriefingGlobal is a media partner with WETEX 2018 & 3rd Dubai Solar Show – we look forward to seeing you there
Tags