World Economic Forum: extreme weather and natural disasters are top global risks
September 20, 2018
Posted by:

administrator

Category:

Conferences, Global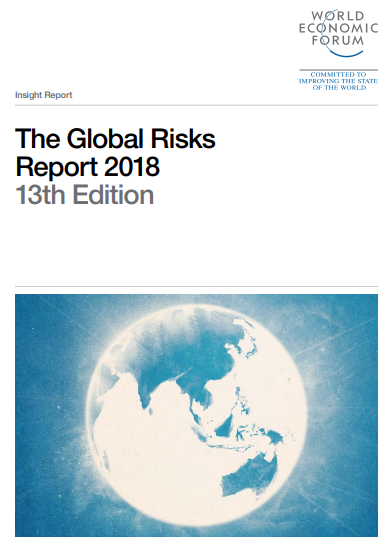 Extreme weather events and natural disasters have been identified as the top two global risks most likely to happen in the next ten years, according to The Global Risks Report 2018 published by the World Economic Forum.
In terms of greatest impact, together with the failure of climate-change mitigation and adaptation and water crises, environmental risks account for four out of five of the top global risks – weapons of mass destruction take the number one slot.
Now in its 13th Edition, WEF said environmental risks have grown in prominence in recent years while economic risks have faded sharply in the annual Global Risks Perception Survey which forms part of the Report.
This trend has continued this year, with all five risks in the environmental category being ranked higher than average for both likelihood and impact over a 10-year horizon. This follows a year characterized by high-impact hurricanes, extreme temperatures and the first rise in CO2 emissions for four years.
The GRPS was completed by around nearly 1,000 experts and decision-makers in WEF's multistakeholder communities which assess the likelihood and impact of 30 global risks over a 10-year horizon. Over this medium-term period, environmental and cyber risks predominate.
Among the most pressing environmental challenges identified in the report are
extreme weather events and temperatures;
accelerating biodiversity loss;
pollution of air, soil and water;
failures of climate-change mitigation and adaptation;
and transition risks as we move to a low-carbon future.
The report says:
"We have been pushing our planet to the brink and the damage is becoming increasingly clear. Biodiversity is being lost at mass-extinction rates, agricultural systems are under strain and pollution of the air and sea has become an increasingly pressing threat to human health."
"A trend towards nation-state unilateralism may make it more difficult to sustain the long-term, multilateral responses that are required to counter global warming and the degradation of the global environment.
This year's report also includes a new "Future Shocks" section which highlights the importance of being prepared not just for familiar slow-burn risks, but for dramatic disruptions that can cause rapid and irreversible deterioration in both the natural and man-made systems the world relies on.
The Future Shocks include the possibility of simultaneous breadbasket failures which would then threaten the sufficiency of global food supplies.
Under this scenatio, rising temperatures and more frequent heatwaves would disrupt agricultural systems that are already strained. The report flags up a warning by the Food and Agriculture Organization of the United Nations that there is now a one-in-twenty chance per decade that heat, drought, and flood events will cause a simultaneous failure of maize production in the world's two main growers, China and the United States.
It also highlights the fact that with more than 75% of the world's food coming from just 12 plants and five animal species, monoculture production heightens vulnerability to catastrophic breakdowns in the food system.
The risk of a systemic breakdown could be further elevated by wider fragilities, including reduced crop diversity, competition for water from other sectors and geopolitical tensions, the report says.
The report says that just as global risks are increasingly complex, systemic and cascading, the responses must be increasingly interconnected across the numerous global systems that make up our world.
"Multistakeholder dialogue remains the keystone of the strategies that will enable us to build a better world."
In their joint introduction to the report, the World Economic Forum's President  Børge Brende and Klaus Schwab Founder and Executive Chairman of WEF comment:
"Our hope is that this edition of the Global Risks Report and the debates it fosters at the World Economic Forum's Annual Meeting 2018 will focus minds on the need for systems thinking and new ways of collaborating globally and involving all stakeholders."
Click here to download The Global Risks Report 2018
Tags