World Economic Forum warns climate change is key driver for 4 out of 5 top global risks in 2019
January 22, 2019
Posted by:

administrator

Category:

Conferences, Investment and Finance, Technology & Innovation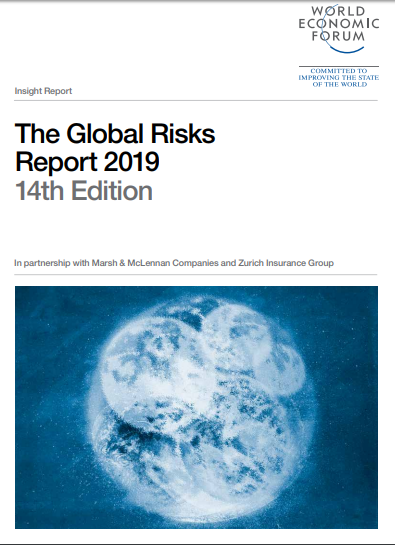 The World Economic Forum is warning of the long-term risks of environmental degradation, with four of the top five most impactful global risks in 2019 related to climate change.
The warnings come in the 14th edition of the Global Risks Report 2019 has been published at the start of WEF's annual conference in Davos, Switzerland this week against a backdrop of what WEF describes as "worrying geopolitical and geo-economic tensions."
The report presents the results of WEF's latest Global Risks Perception Survey, in which nearly 1,000 decision-makers from the public sector, private sector, academia and civil society assess the risks facing the world.
The experts are warning that if they remain unresolved, the tensions will hinder the world's ability to deal with a growing range of collective challenges, from the mounting evidence of environmental degradation to the increasing disruptions of the Fourth Industrial Revolution.
Over a ten-year horizon, extreme weather and climate-change policy failures are seen as the gravest threats. Nine out of 10 respondents expect worsening economic and political confrontations between major powers this year.
In the survey's 10-year outlook, cyber risks sustained the jump in prominence they registered in 2018, but environmental risks continue to dominate respondents' concerns beyond the short term. All five of the environmental risks the report tracks are again in the high-impact, high-likelihood category:
biodiversity loss
extreme weather events
failure of climate-change mitigation and adaptation
man-made disasters
natural disasters
This year's report includes another series of "what-if" Future Shocks that examine quantum computing, weather manipulation, monetary populism, emotionally responsive artificial intelligence and other potential risks.
Rapidly evolving cyber and technological threats are the most significant potential blind spots; we still do not fully appreciate the vulnerability of networked societies, the report says.
"With global trade and economic growth at risk in 2019, there is a more urgent need than ever to renew the architecture of international cooperation. We simply do not have the gunpowder to deal with the kind of slowdown that current dynamics might lead us towards. What we need now is coordinated, concerted action to sustain growth and to tackle the grave threats facing our world today," said Børge Brende, President of the World Economic Forum.
Alison Martin, Group Chief Risk Officer, Zurich Insurance Group, commented:
"2018 was sadly a year of historic wildfires, continued heavy flooding and increasing greenhouse gas emissions. It is no surprise that in 2019, environmental risks once again dominate the list of major concerns. So, too, does the growing likelihood of environmental policy failure or a lack of timely policy implementation."
" To effectively respond to climate change requires a significant increase in infrastructure to adapt to this new environment and transition to a low-carbon economy. By 2040, the investment gap in global infrastructure is forecast to reach $18 trillion against a projected requirement of $97 trillion. Against this backdrop, we strongly recommend that businesses develop a climate resilience adaptation strategy and act on it now."
Shortfalls of investment in critical infrastructure can lead to system-wide breakdowns
Environmental risks also pose problems for urban infrastructure and its development. With sea levels rising, many cities face hugely expensive solutions to problems that range from clean groundwater extraction to superstorm barriers. Shortfalls of investment in critical infrastructure such as transport can lead to system-wide breakdowns as well as exacerbate associated social, environmental and health-related risks.
John Drzik, President of Global Risk and Digital, Marsh, said:
"Persistent underfunding of critical infrastructure worldwide is hampering economic progress, leaving businesses and communities more vulnerable both to cyberattacks and natural catastrophes, and failing to make the most of technological innovation.
Allocating resources to infrastructure investment, in part through new incentives for public-private partnerships, is vital for building and strengthening the physical foundations and digital networks that will enable societies to grow and thrive."
This year's report revives the Future Shocks series, which recognizes that the growing complexity and interconnectedness of global systems can lead to feedback loops, threshold effects and cascading disruptions. These "what if" scenarios are food for thought as world leaders assess potential shocks that might rapidly and radically disrupt the world. This year's sudden and dramatic breakdowns include vignettes on the use of weather manipulation to stoke geopolitical tensions, quantum and affective computing, and space debris.
Click here to download Global Risks Report 2019 in full
Tags